Woman gets gifts from hometown in Russia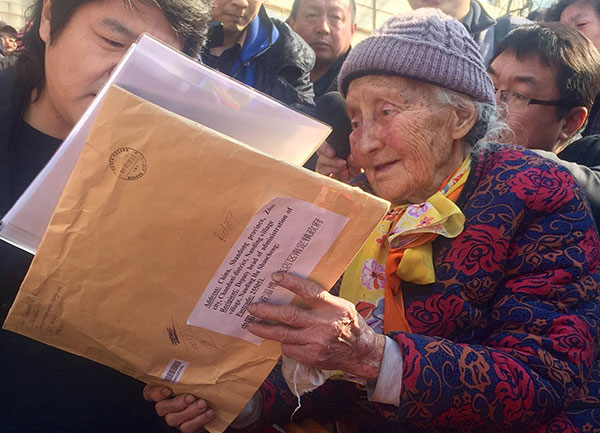 A translator reads letters to Liu Molan in Zibo, Shandong province, on Wednesday. The letters were sent by Oleg Kuvshinnikov, governor of Russia's Vologda Oblast, where Liu was born, and local children. Zhao Ruixue / China Daily
A 90-year-old woman from the village of Vahevo in northern Russia's Vologda Oblast received on Wednesday photographs and letters written by children from her hometown, which she has not returned to for 83 years.
Born in the former Soviet Union in December 1926, Liu Molan, whose Russian name is Nina, moved to China with her family when she was 7 years old. Her father is Chinese, and met Nina's mother, a Russian, while doing business in the Soviet Union.
Nina lived with her family in Ili, the Xinjiang Uygur autonomous region. At age 17, she married Liu Chunshu, a Chinese man who was 20 years older than her. Liu gave Nina the Chinese name Molan, meaning orchid, which she has used ever since.
After the founding of the People's Republic of China in 1949, Liu Molan traveled with her husband to his hometown in Mansihe village, Shandong province. She now lives with her daughter-in-law, as her husband and her adopted son and daughter have all died.
Liu Molan, who likes to sing Russian songs and Chinese folk songs, can still speak and write a little Russian, but she is more fluent in speaking a rural dialect native to Zibo.
Oleg Kuvshinnikov, governor of Vologda Oblast, wrote a letter to Liu Molan, saying that her story is an example of the long-standing friendship between China and Russia and wishing her a happy Year of the Rooster.
Children from her hometown wrote that they are glad to know that Liu Molan is living a happy life in China.
"Since you and your family left, great changes have taken place in our hometown. The pictures might remind you of your happy childhood here," one of the letters read.
Liu Molan said she is fond of the gifts, adding, "I hope children in my hometown visit China to see for themselves that it is a great country."
To help people from Liu Molan's hometown see where she lives now, the local government posted some pictures and Chinese gifts to the children in Vologda Oblast.