Chongqing 'panda blood' donor is a lifesaver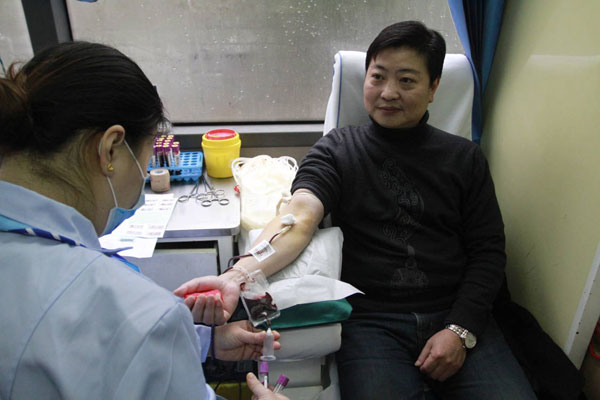 File photo of Chen Jiang donating blood. [Provided to chinadaily.com.cn]
Chen Jiang's blood type is so unusual it's called "panda blood" in China, because, as the name suggests, it is considered to be as rare as pandas.
Among Chinese people, only three in 1,000 have the Rh-negative factor.
As one of them, Chen, 43, who is the Party secretary of Masangxi Community in Dadukou district, Chongqing, has been donating his blood for 12 years.
It was during a voluntary blood donation in 2005, that Chen discovered he had the highly unusual blood type. In order to help more people with such blood type, Chen gave his phone number to the local blood center and hospitals, and has since become a regular donor.
"My phone is on 24 hours and I am always ready to donate," he said.
One early morning in April 2014, Chen got a call from the blood center and he was asked to help a pregnant woman, who was waiting on the operating table, and in urgent need of "panda blood",
Chen rushed to the closest blood collection place, rolled up his sleeves and offered 400 milliliters of blood. "Both the doctors and I feel relieved after the blood donation every time."
Chen has had urgent requests like that four times.
"I will donate my blood until I'm 60 years old," he said. "As long as my body allows me."
Chen also tries to promote voluntary blood donation among his colleagues and neighbors.
"Blood donation can save lives!" he tells them.
Encouraged by Chen, his colleague Zeng Jing and four residents from the community have joined the voluntary team of donors.