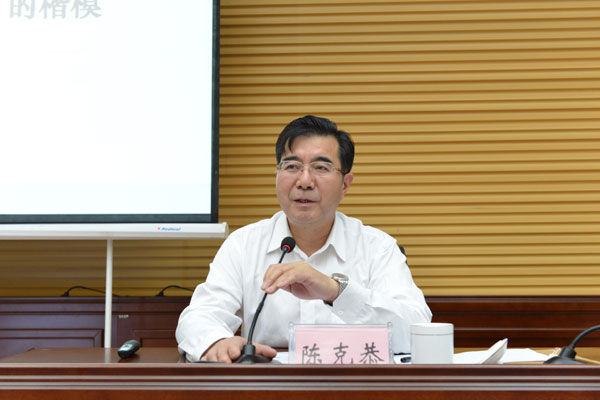 A file photo of Chen Kegong, Party chief of Northwest Normal University in Lanzhou, Gansu province. [Provided to chinadaily.com.cn]


The government should provide more favorable policies and investment to build strong normal universities in the country's western part, a deputy to the National People's Congress suggested.
Chen Kegong, Party chief of Northwest Normal University in Lanzhou, Gansu province, who is attending the NPC session in Beijing, said in his motion that the government should open a green passage to support western provinces and regions to each have a strong normal university.
He said this is an important move as it would help modernize education.
He suggested that the government should give strong support to create teacher disciplines as the country embarks on building world-class universities and first-class disciplines, improving students' skills, such as inculcating global perspective and information technology applications.
Chen also suggested a tuition refund policy for students who become teachers, helping normal universities in enrolling best talents and hiring good teachers, exploring how top-class universities can support a normal university in the western region, as well as giving teachers in poor western regions priority in the urbanization and poverty relief programs.
"Western regions are crucial to the Belt and Road Initiative, but these areas are less developed, always have had weak economic foundation as well as lack of talent compared with the eastern regions, and education is crucial to improving the shortage in skills," he said.
Education is a crucial part in the country's poverty relief work, and people from all ethnic groups in the western region understand the role of education in moving out of poverty, and they expect good teachers more urgently.
President Xi Jinping talked about the importance of good teachers when he visited Beijing Normal University in 2014, saying that good teachers are the hope of the nation.
"China will be strong if youth is strong; China will be strong if the central and western regions are strong… The importance of teachers lies in shaping souls, forging lives and crafting humans... To become a good teacher, one must have noble ideals, solid knowledge and a kind heart," Xi said.
Although education is so important in the western regions, some local governments allocate less money to support the sector and instead give priority to development, said Chen in an interview with chinadaily.com.cn via WeChat.
Some universities in the western regions have to run their daily operations like companies due to the huge pressure of bank. One of the schools pays 40 percent of the tuition fees it collects as interest on bank loan, said Chen.
He said the government should change the mode of economic development and give education the priority, allowing education to fulfill its fundamental and leading role in economic development.