Real economy, SOEs crucial for development of NE province: Xi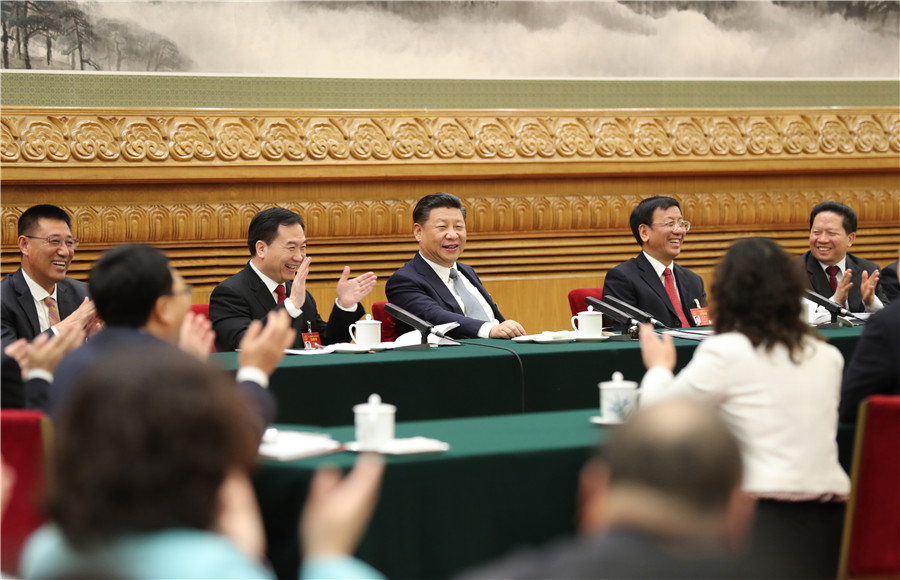 Chinese President Xi Jinping joins a panel discussion with deputies to the 12th National People's Congress (NPC) from Northeast China's Liaoning province at the NPC's annual session in Beijing, March 7, 2017. [Photo/Xinhua]
BEIJING - Chinese President Xi Jinping said Tuesday that the northeastern province of Liaoning must depend on the real economy to realize rejuvenation, urging state-owned companies to take a leading role in the process.
Xi, also general secretary of the Communist Party of China Central Committee and chairman of the Central Military Commission, made the remarks during a panel discussion with national lawmakers from Liaoning at the ongoing annual session of the National People's Congress.
No matter which stage China's development is in, the real economy will always be the foundation for growth and for global economic competition as well, Xi said.
Supply-side structural reform is inevitable for the revitalization of Liaoning, Xi said, urging the province to make new progress in the reform and to rejuvenate the industrial sector.
The province should focus on industrial upgrades and set up an industrial system with long-lasting competitiveness, he said.
Liaoning should promote the creation of a new economic structure featuring joint development of new strategic sectors and traditional manufacturing, complementary development of modern and traditional services, integration of informatization and industrialization, as well as military and civilian integration, he said.
The province should also make firm steps to develop and strengthen state-owned enterprises (SOEs), which are leaders in Liaoning's revitalization, to cultivate core competitiveness, Xi said.
SOEs should strive to become pioneers of innovation-driven development, he said.
Liaoning must optimize the distribution of state-owned capital, fulfill its responsibility to maintain and increase the value of state-owned assets, and avoid state asset losses and other major risks, Xi said.
The northeast, which consists of Liaoning, Jilin and Heilongjiang provinces, was among the first regions in China to become industrialized. Its traditional industries include steel, automobile, shipbuilding and petroleum refining.
China has pledged to rejuvenate the northeast rustbelt region through more reforms and economic restructuring.