Eco-agencies hope changes will save the Yangtze finless porpoise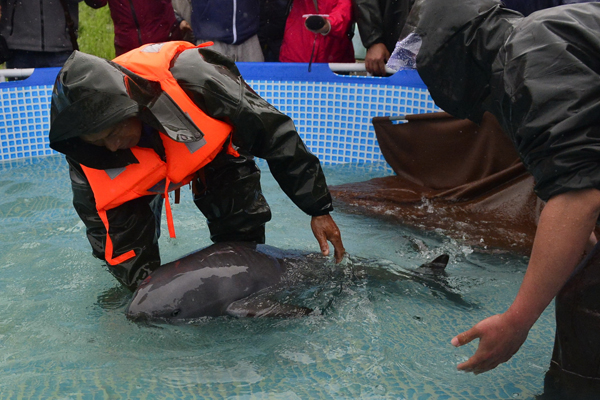 Workers introduce a Yangtze finless porpoise to a small pool on the shores of Boyang Lake, where the mammals are encouraged to breed in safe conditions. [Photo/Xinhua]
While recent moves to protect the endangered Yangtze finless porpoise, a rare freshwater mammal, have produced some positive results, many concerns remain.
"The number declined by double digits every year between 2006 and 2012, so the best hope is to first slow the rapid decline, and then gradually reverse the situation," said Zhu Jiang, head of the World Wide Fund for Nature's Yangtze River biodiversity conservation project.
The Yangtze finless porpoise, the only mammal in the river, is considered rarer than the giant panda, and although it is at the top of the river's food chain, it is threatened with extinction.
The porpoise's natural habitat is mainly located in the middle and lower reaches of the river and two of its lakes, Poyang and Dongting. No official data is available, but the population in Dongting Lake has remained stable and even shown signs of rising, while the number in Poyang Lake has stabilized at about 450, according to Zhu.
"Thanks to the efforts of the central and local governments, NGOs and the public, awareness of the finless porpoise has been greatly increased," he said, adding that relocating the mammals to their natural habitat is a proven protection method. So far, 85 have been relocated to three reserves: one in Tian'ezhou, Hubei province; one in Hewangmiao/Jichengyuan, on the borders of Hubei and Hunan provinces; and the other at Xijiang, Anqing, Anhui province.
In December, the Ministry of Agriculture released a plan that will reinforce management of the natural habitat and promote social awareness of protection.
In 2014, the ministry designated the mammal as a first-class nationally protected species.
However, about 100 die every year, some as a result of human activity, but many others sustain serious injuries, said Zhu, from the WWF.
A survey conducted by the Ministry of Agriculture, the Chinese Academy of Sciences and the WWF in 2012 showed that the river's porpoise population stood at about 1,040, but it also showed an annual decline of 13.73 percent, twice the rate reported prior to 2006.
In the same year, several researchers predicted that the finless porpoise could be extinct within 10 to 15 years. The news prompted concerns that it may go the way of the white-flag dolphin, which was officially declared "functionally extinct" in the Yangtze River in 2006 after scientists decided that the population was too small to reproduce effectively.
"We face the challenge of balancing economic development and ecological protection, so there is still a long way to go before we see a rise in the number of finless porpoises in the Yangtze River," Zhu said.
Zhou Lihua in Wuhan contributed to the story