Swapping shantytown for The suburbs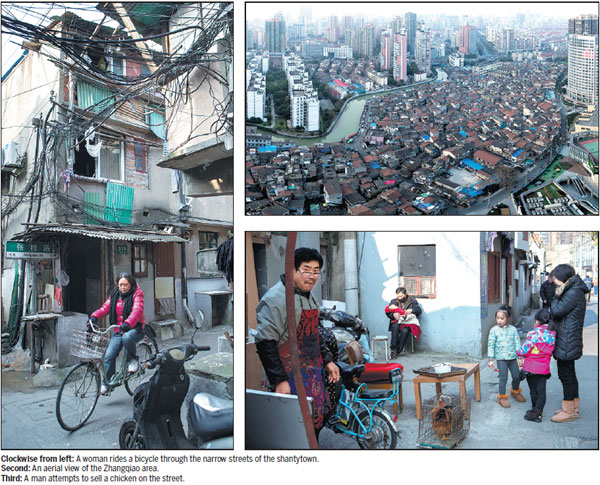 2,100 Shanghai households to be relocated soon
At the entrance of an old, dilapidated residential community in downtown Shanghai, two women were going about their daily business. One of them was washing her hair in a sink, while the other used another sink to rinse out a spittoon.
Most of the residents have installed outside sinks to save space in their small homes, and 40 percent of them don't have indoor bathrooms or kitchens.
Actually, "entrance" is not an accurate description of the portal, because the community doesn't really have an exterior wall, which means burglary is rampant. For some residents, checking the door repeatedly before going to bed has been a habit for several decades.

Welcome to Zhangqiao, Shanghai's largest shantytown. Situated beside a small creek, the community appears as a blemish among the modern high-rise residential buildings worth more than 100,000 yuan ($14,500) per square meter in China's most cosmopolitan city.
Things will change soon, however, because the nearly 2,100 households in the 23-sq-km community in the central Hongkou district will be relocated. In a first-round survey conducted in October, more than 99 percent of residents agreed with the local government's relocation program.
"That's quite rare for an area as large as ours. The residents' decades-old dream will finally come true," said Lyu Xuebin, head of the relocation project, who works for the Jiaxing Road subdistrict of Hongkou.
About 3.5 million sq m of the old city was revamped between 2011 and 2015, when Premier Li Keqiang said the government's goal was to complete the redevelopment of the country's shantytowns by 2020.
In the early 1950s, Zhangqiao was the place where the city's human waste was loaded before being shipped for disposal in remote areas.
Many boatmen, mostly migrants from neighboring provinces, moved ashore and built makeshift single-story houses in the district. As a result, hundreds of buildings of different shapes and sizes sprang up, facing in all directions; a stark contrast to most of the buildings in the city, which stand in neatly regulated lines.
Liu Lihua, who was born in Zhangqiao in 1955, recalled that all the residents lived in single-story houses. "Our ceiling was too low for my father to even stand up straight," she said.
Another resident, Jiang Minli, said his family - two parents and five children - shared a 24-square-meter house when he was young. "My father built an attic of around 7 sq m for us kids to sleep in. There was no running water and the roof leaked," the 65-year-old said.
Liu, her parents and two siblings lived in their 15-sq-m house until the mid-1980s, when her first child was born and the family added two floors to the original structure.
"Most families added a floor when one child got married, then added another when a second child married," she said. Her family installed a kitchen and a bathroom when they renovated their house, but they were the exceptions.
"Many of the roughly 6,000 residents still don't have flush toilets, showers or proper ovens, so most of them use small electric cookers instead," she said.
Overcrowded conditions
Some residents' living spaces remained overcrowded even after their houses grew taller.
A 58-year-old woman, who only gave her surname as Zhang, said 12 people occupy her family's three-story, 50-sq-m house. "Needless to say, the lack of personal space creates chaos and quarrels almost every day," she said. "Another problem is that we don't get any sunlight because the houses are too close to each other."
At some points, the alleys between the houses are so narrow and curved that people are unable squeeze pass each other.
Housewife Zhang Minhua hates the rats that infest her home. "They swarm over food that is left unattended on the dining table, and several of my leather purses have been bitten by them," she said.
The biggest headache for Chen Ziming, director of the Zhangqiao neighborhood committee, is that "the human waste from the flush toilets is drained directly into the gutters, and ends up getting baked by the sun, which makes the area very smelly".
Despite their poor living conditions, most residents failed to find new homes elsewhere. According to Chen, 175 of the 2,100 families in the shantytown live on minimum subsistence allowances, and more than 200 residents have disabilities.
Old dreams, new homes
The residents have been awaiting relocation for a long time, but the shantytown has been left untouched because the undesirable location means property developers have no interest in the place, according to Chen.
"It's along the creek, so it is unsuitable for high-rise housing projects. It was only recently that the government decided to play a leading role in the redevelopment program to improve the residents' living conditions," he said, adding that the area will be utilized as an extension of an arterial road and shrubs will be planted to block views of the creek.
Wang Meijuan, 57, who lives with her husband, son and mother-in-law in Zhangqiao, said her father-in-law had been eager to move to a new home in his twilight years, but he didn't live long enough to see that happen. He died two years ago at age 83. Soon, the rest of the family will see their dream of a new home finally come true.
"My 33-year-old son has been in relationships with two girls, but when they talked about marriage, they both refused to live in Zhangqiao and broke up with him," Wang said. "A new home might help him to find a spouse."
Lyu said the government is already preparing the necessary funding. Each family will receive compensation, based on the size of their house, and will be able to buy a new home wherever they want. The local government has recommended several residential communities where the new residents will enjoy relocation privileges, but these communities are usually located in suburban districts, far from the center.
The compensation plan is still being mulled over, Lyu said.
Many residents said they weren't worried about being relocated to areas far from the city center, but they hoped there would be adequate amenities, including grocery stores and hospitals, near their new homes.
Zhang Suoqiao is an exception. The strong emotional connection he has with the district means he is one of the few residents who isn't desperate to leave.
"When I was a child, my wife-to-be lived opposite me in this neighborhood. She was born here and I was raised here from the age of 3," the 71-year-old said.
"It's such a terrific location. Just 2 km ahead, you can see the Oriental Pearl TV Tower across the Huangpu River."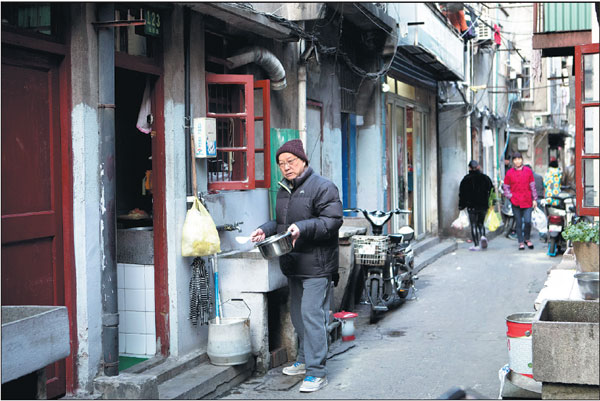 A Zhangqiao resident cleans pots and pans at an outdoor sink in the community.Gao Erqiang/china Daily