'Kung fu granny' proves a hit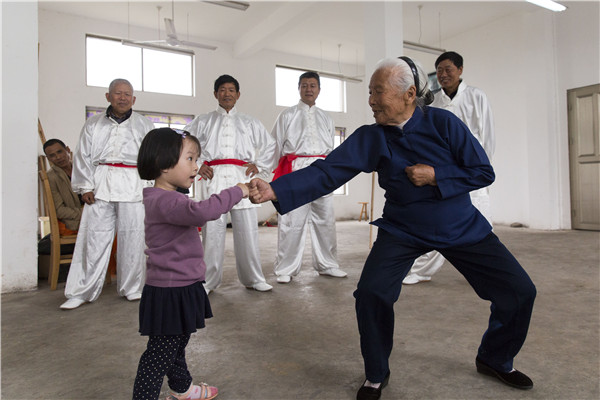 Zhang Hexian (right), 94, teaches kung fu to a girl in her village in Ninghai county, Zhejiang province, in 2016. She has had more than 100 disciples.Zuixiangli / For China Daily
Footages of aging martial artist performing moves went viral online
NINGBO, ZHEJIANG - Even at age 94, Zhang Hexian can still handle herself in a fight. Known in her home county of Ninghai, East China's Zhejiang province, as "kung fu granny ", she recently found fame on Chinese social media, with netizens saying that they want to become her disciples.
Zhang has been practicing martial arts since she was 4. "My father would teach me kung fu skills even when I was in bed," she said.
Every day, she gets up at 5 am and practices her kung fu, before eating a breakfast of porridge or noodles. Since the death of her husband, she has grown her own vegetables, chopped her own wood and cooked all her own meals.
Her son, Feng Chuanyin, says practicing each day has brought Zhang good health.
"My mom has never been to the hospital, and recovers from the occasional cold after some sleep," he said.
"She never takes any health products, such as vitamins or supplements."
After video clips and pictures of Zhang practicing kung fu went viral, she became something of an online celebrity.
"My dear granny, you are so great!" wrote one netizen on Sina Weibo, a Twitter-like service in China.
"Granny, do you still want to have disciples?" asked another netizen, while others requested that she taught their children.
Kung fu has not only given Zhang a strong body, it also helped her find romance.
At 14, she met Feng Yongkai - a student of her father's who was four years her senior.
They would often practice together in the mountains and gradually fell in love before getting married.
Zhang's skills have even helped her deal with robbers. Once, when she came across three of them near her home she shouted "dare you come and fight me?" and brought down two before they could even react. The third, realizing he had no chance, quickly ran off.
Kung fu has given her strong arms, enabling her to cook huge meals in the largest of pots. In the 1970s, she was considered the best cook in her village and once cooked as many as 52 dishes for a single banquet.
Practicing martial arts is a tradition in Zhang's family. She has taught her children, grandchildren and great-grandchildren kung fu.
"We practice kung fu for health reasons and self-defense," said Feng, her son. "My mom tells us that attacking others is absolutely unacceptable."
Zhang said she wants to continue teaching her skills to younger generations so that she can pass her knowledge on.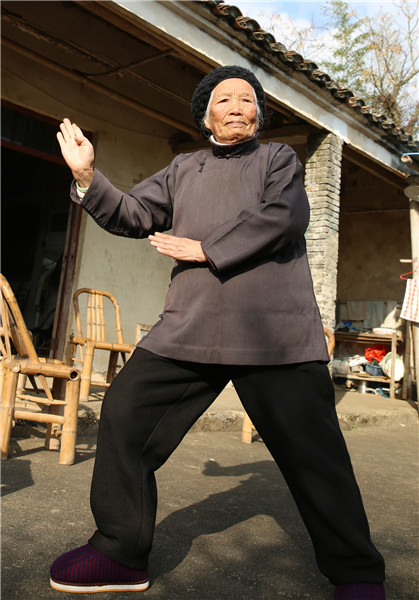 Zhang practices a kung fu posture in her courtyard in January.Zuixiangli / For China Daily