Ex-minister of work safety gets 15 years for graft
Yang Dongliang, former head of China's work safety watchdog and a longtime Tianjin official, was sentenced to 15 years in prison after his conviction on bribery and embezzlement charges by a Beijing court on Tuesday.
The former minister of the State Administration of Work Safety was also fined 2 million yuan ($290,000) and ordered to return his illegal gains by the Beijing No 2 Intermediate People's Court, the court said in a statement.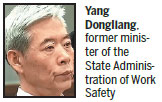 Yang said during the hearing that he accepts the verdict and will not appeal to a higher court, the statement said.
Yang, 63, took bribes of about 28.5 million yuan between 2002 and 2015, when he served in posts including vice-mayor of Tianjin and head of the work safety watchdog, the court said.
He also committed embezzlement by taking control of an apartment in the Heping district of Tianjin in April 1999 when he served as the director of the municipal economy commission in the city. Yang did not register the apartment as a state asset and failed to transfer it to the commission when he left the director's post, the court said.
The court said it has shown leniency in the sentencing because Yang confessed his crimes and had shown remorse. He also took the initiative to return his illegal gains, all of which have been retrieved, the court said.
Yang was placed under investigation for "severe violations of discipline and law" by the Communist Party of China's Central Commission for Discipline Inspection in August 2015.
A native of Qingxian county, Hebei province, Yang began his career in 1972 and joined the Communist Party of China a year later. He served as vice-mayor of Tianjin from 2001 to May 2012, before he was appointed minister of the State Administration of Work Safety. He has a doctoral degree in law.