Researchers mull ways to improve use of resources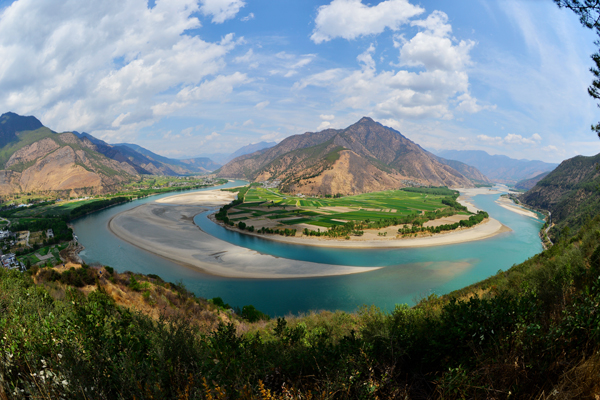 A scenic view of a spectacular bend in the Yangtze River between Lijiang and Shangri-La in Yunnan province. [Photo by Zhang Weiguo/For China Daily]
A large information database and a pool of expert resources are being built to facilitate the sharing of resources and promote studies on the development of the proposed Yangtze River economic belt.
"Many universities along the Yangtze River economic belt have carried out their own studies and research, based on different reaches of the river. Such studies are relatively separate," said Chen Yugang, professor and head of the liberal arts department at Fudan University in Shanghai.
"We hope to establish an integrated study platform that will allow all the universities along the belt to share and exchange information and resources to boost the productivity of research in this field."
In December, Fudan University initiated a cooperative think tank working alliance for the development of the economic belt, with the participation of 12 universities and research institutes.
The alliance's main task will be to provide high-quality reports for the government and businesses to aid the development of the economic belt and promote the exchange and cultivation of talent.
"So far, we have already carried out studies related to ecological restoration and environmental protection of the Yangtze River water system. Meanwhile, the alliance will also promote scientific and technological innovation and collaboration between industry and academics in the belt," Chen said, adding that more universities have been encouraged to join.
The Yangtze River Economic Belt Development Institute at Fudan University is currently working as the academic service body for all members of the alliance. The development institute was jointly established by the university and the cooperation and exchange department of the Shanghai municipal government in October 2015.
So far, the institute has established three multidimensional data platforms that provide accurate reflections of the social and economic conditions along the river. For example, the Yangtze River Economy and Society Development Database provides information about more than 110 cities at the prefecture-level and above in the proposed economic belt. The database includes hundreds of indicators in fields such as population, economic development and business development.
To promote the development of the economic belt, the 11 provinces and cities along the river will need to address a range of problems, such as planning ecological and environment protection programs.
They will also need to exploit the economic benefits provided by the river, balance development across areas, boost industrial transformation and upgrade via scientific innovation, as well as developing a regional cooperative and coordinating a working mechanism, according to Liu Chenggong, deputy Party head at Fudan University.
Intensive research should be carried out to formulate comprehensive, systematic policies, Liu added. The alliance will also hold a think tank forum annually to attract wider attention to ecological protection and the economic belt's development, and to boost the development of green innovation.