Mongolian courier delivers on horseback in snow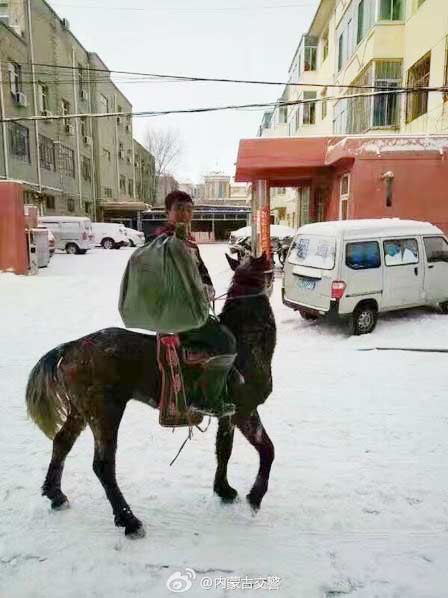 Altan Boliger delivers items on a horseback in Bayannur League, Inner Mongolia, Feb 21, 2017. [Photo/Sina Weibo]
When weather turns bad in Mongolia, it's the horses that come to rescue, as this story shows.
A courier, Altan Boliger, in Bayannur League, Inner Mongolia, rode a horse to deliver packages in heavy snow on Tuesday when a massive cold front hit the region.
The traditional Mongolian method left both locals as well as internet users impressed after a short video clip of Boliger and his horse was uploaded online, with many praising his horseback skills and devotion to work.
While Chinese couriers often use electric tricycles or scooters to deliver packagers in extreme weather, Boliger said he rode the horse as it's a much more reliable in blizzards. He managed to deliver 30 to 40 items on Tuesday.