'Mother river' set to reap rewards of development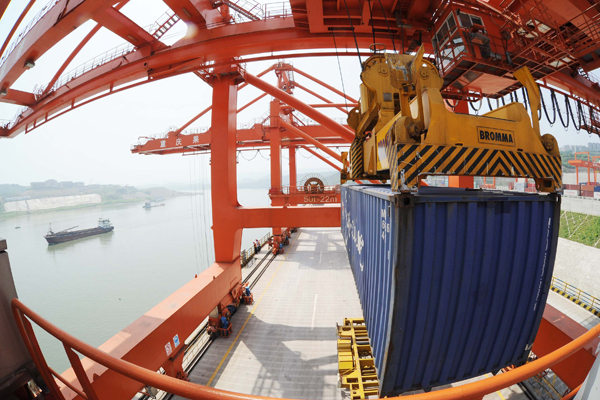 A container is unloaded at Guoyuan Port in Chongqing.[Photo/Xinhua]
Editor's note: The Yangtze River economic belt covers 11 provinces and cities, such as Jiangsu, Zhejiang, Anhui, Sichuan and Shanghai, with a total area of 2.05 million square kilometers. The belt also spans the country's eastern, middle and western regions, and the population and GDP within it account for more than 40 percent of the national totals. The economic belt is regarded as an important strategic area for the country's latest round of reform and development.
The largest port in Chongqing, the biggest city on the upper reaches of the Yangtze River, is planning to raise throughput by promoting intermodal transport and improving transshipment efficiency to take advantage of China's "mother river" and become a major international inland port.
The southwestern municipality's Guoyuan Port, the "golden gateway" to the vast inland area, lies at the head of the river, while Shanghai lies at its tail.
The port, connected to railways, water routes and roads, is located at the intersection of the trade route of the Belt and Road Initiative and the Yangtze River Economic Belt, which is under development.
"The intermodal transport route connecting the Yangtze River and the railway is much cheaper than the previous 'classic' route," said Zhang Baohua, executive director of Chongqing Guoyuan Port Affairs Co, administered by the State Development and Investment Corp.
According to Zhang, the port will operate as a hub for the shipment of ocean cargo to inland areas: "For example, foreign sea cargo can be carried along the river to Chongqing and transshipped to the western regions by train. Water transport is much cheaper than rail."
Cost savings
When Lanzhou, Gansu province, imports bauxite, the world's main source of aluminum, the classic route takes the 1,800-kilometer Lianyungang-Lanzhou railway.
However, if the cargo were to be transported via the Yangtze River and transshipped-moved from one mode of transportation to another-in Chongqing, the journey to Lanzhou would be just 800 km, providing huge cost savings, Zhang said. The Chongqing-Lanzhou railway, which is expected to open later this year, has been built to facilitate that move.
A trunk line that opened in 2013 to connect the port with the national rail network has resulted in greatly increased throughput. Last year, the port handled 240,000 containers, 30,000 more than in 2015.
Most of the port's additional traffic is transported by railway, according to Zhou Zhonglin, vice-manager of the business department at Chongqing Guoyuan Container Terminal Co.