China, Italy pursue innovation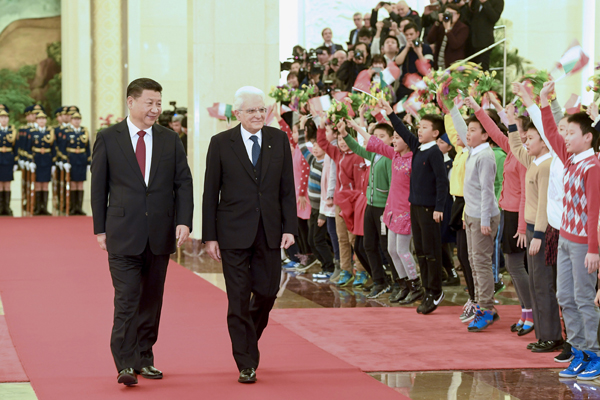 President Xi Jinping welcomes Italian President Sergio Mattarella during a ceremony on Wednesday at the Great Hall of the People in Beijing. Mattarella's six-day visit to China will include trips to Shanghai, Chongqing and Xi'an. [Photo/Xinhua]
Scientific and cultural innovation plans were major highlights of the 13 cooperative documents signed by China and Italy on Wednesday, which analysts said showcases a shared pursuit of new economic engines to offset downward pressure.
The pacts were inked after the talk between President Xi Jinping and his Italian counterpart, Sergio Mattarella, on Wednesday in Beijing.
Mattarella, who took office in 2015, is making his first state visit to China from Tuesday to Sunday. He is also the first top state leader to visit China in the new year.
A cultural park, a park for boosting local innovation and a China-Italy design innovation base were among the visions outlined by the agreements.
During their talk on Wednesday, Xi said the two countries should "keep an eye on the latest round of scientific and industrial revolution in the world" and reinforce cooperation on innovation.
Additionally, China is ready to boost communication with Italy on topics including global governance and multilateralism, Xi said.
This year, Italy will be a nonpermanent member of the United Nations Security Council. Mattarella said Italy is ready to step up coordination with China in global affairs, and his country supports championing an open, multilateral world trade system.
Currently, Italy is China's fifth-largest trade partner within the European Union, while China is Italy's top trade partner in Asia.
Italy has become one of the major destinations of Chinese investment in Europe.
Sun Yanhong, associate researcher on Italian studies at the Chinese Academy of Social Sciences and secretary-general of the Chinese Association for Italian Studies, said that the two countries "share a great yearning for works on innovation" as they pursue economic restructuring.
Italy in particular needs capital, and China offers a market to help revitalize its sluggish economy, Sun said.
Innovation is a strength of Italy's small and medium-sized companies, and introducing their techniques and patterns will help China's shift of economic paradigms, Sun added.
As a sign of the Mediterranean country's economic difficulty, the European Union pressured Rome earlier this week to further curtail its deficit.
Cui Hongjian, director of the Department for European Studies at the China Institute of International Studies, said that although the sluggish economy in Europe has led to friction in China-Europe trade, win-win cooperation is the only viable pathway.
Chen Xu, director of the Foreign Ministry's Department of European Affairs, said another highlight of the visit is the boosting of the link of the two countries' development strategies regarding cooperation on the Belt and Road Initiative.
Sun, the CASS researcher, said that Italy, with ports around the Mediterranean, has a great interest in being part of the Belt and Road Initiative.