Teaching the children shunned due to HIV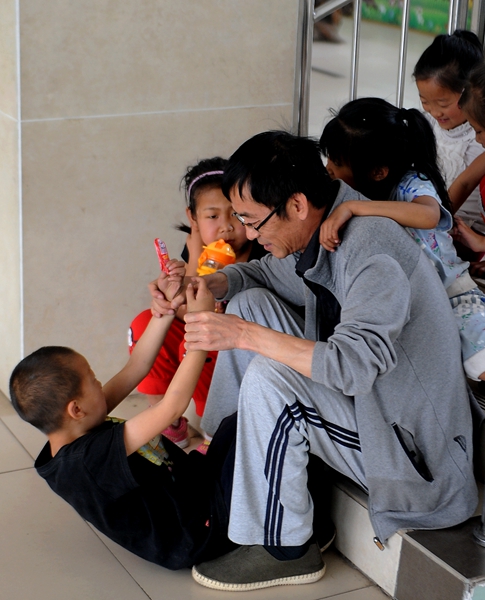 Guo Xiaoping, the head of Linfen Red Ribbon School in Shanxi province, plays with his students.Bai Qingxia / For China Daily
Former hospital director started school to cater for infected children
Linfen Red Ribbon School in Shanxi province is the only one of its kind in China - a facility providing education to children who are living with HIV.
It began in 2004, as an informal classroom in a vacant ward of Linfen Third People's Hospital with Guo Xiaoping, a doctor and the hospital's director, at its helm.
After seeing four young inpatients infected with HIV who could not attend school while receiving treatment, he set up desks and chairs in a ward for them so that they could continue their studies. Lessons were given by doctors and nurses at the hospital.
With more HIV-infected children joining during the past 12 years, the informal classroom has expanded and developed to its current size - a 60,000-square-meter campus in the suburbs of Linfen.
It now has seven staff and 33 students, the youngest just 8 years old. Schooling is free for every student enrolled, covering food and living expenses as well as medical costs. Government funding and individual donations have kept it running.
In December 2011, the school was given approval from the local education authority to provide compulsory education. It now offers classes from the first through 12th grade.
This allowed Guo to resign from his post as hospital director in 2012 and become the school's full-time principal.
Earlier this month, he was honored for his contribution to society at China Central Television's annual "Touching China" awards.
Yet Guo, 55, does not crave fame or even recognition.
"I just want these children to be known by more people," he said.
"Because, apart from their physical pain, they have suffered more from psychological pressure caused by social stigma and discrimination."
Most of the school's students were infected with HIV through mother-to-child transmission and lost their mothers at an early age.
Luo Kun, 9, was abandoned by his HIV-carrier mother and stepfather when he was only 8 months old. They left him to live with his step-grandfather in a village in Xichong county, Sichuan province.
In 2014, word got out that Luo had HIV and 203 villagers, including his grandfather, signed a letter calling for him to be banished. The following year, he was sent to the Linfen Red Ribbon School.
Guo said Luo had some bad habits at first, which meant he was unable to get along with other children and could be traced back to the days when he was ostracized. But after two years in the school, he has become accustomed to academic life and is behaving better.
"When I first started the school, I felt a great weight of social responsibility," said Guo.
"But gradually, as I became closer to the children, my thinking became much simpler: they are my children, that is all that matters."
Many of the students regard Guo as a father figure, rushing over to give him a hug whenever they see him on the campus. He often plays games with them at break times and tries hard to remember all their birthdays.
At present, there are 16 children busy preparing for the upcoming national college entrance exam in June. Guo and his colleagues are doing their best to support them, including by inviting teachers from other schools to help tutor them.
"College will be a turning point in their lives. We hope society can be more inclusive and tolerant of them. HIV/AIDS is not scary," Guo said.
Some have criticized the school for segregating its students from society, but Guo rejects this: "Without us, these children might not have even had the chance to go to school.
"I hope, as they do, that one day, when there is no discrimination against people living with HIV/AIDS, there will be no need for our school to exist," he said. "But until then, I will continue my work, raising people's awareness about an inclusive environment for people with HIV/AIDS."