Palden Donyo, a lama from Sagya Monastery, knows how to protect religious treasures ― politically.
A member attending the ongoing plenary session of the Tibet committee of China's political advisory body, he submitted a proposal that the monastery apply for a place on the World Heritage list for protection and awareness.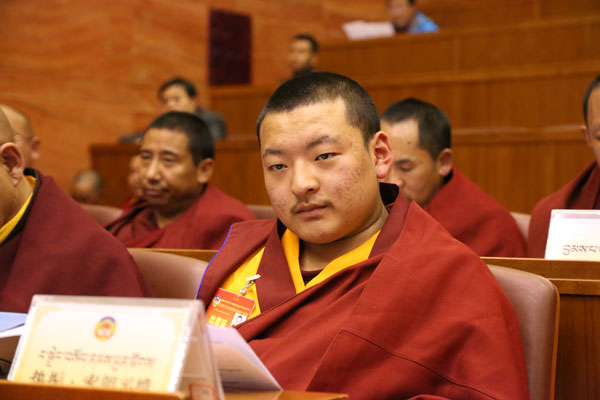 Radreng Sodnampuntsog, a 16-year-old Living Buddha and a political adviser of the Tibet autonomous region, attends the plenary session of the Tibet committee of China's political advisory body in Lhasa on Tuesday. He is the youngest adviser on the committee. DAQIONG / CHINA DAILY
"The Potala Palace is the only one making it to the United Nations' list in Tibet. But we have other sites worthy of introducing to the world," Palden Donyo said.
"Monasteries alone cannot do the protection job. ... We have to engage authorities through this way to preserve treasures passed down from generations."
Abbots of Sagya ― one of the four major branches of Tibetan Buddhism along with the Gelug ― governed Tibet in the 13th century until they were eclipsed by the rise of the Gelug School.
As many as 84,000 scrolls of ancient holy writings were found to have been stored, and remain untouched, in a wall 60 meters long and 10 meters high at the monastery, which was built in 1073 in Sagya county, about 400 km from Lhasa, according to a Xinhua News Agency report.
Palden Donyo said the scroll wall and more than 100,000 priceless items, including the conch thought to have been used by the Buddha and a wall painting sprawling over 8,000 square meters, are unique offerings to the world.
"I hope Sagya Monastery's application will inspire member advisers at other monasteries to follow suit and seek protection and financial help from counties, prefectures or the autonomous region's government."
If the Tibet Committee of the Chinese People's Political Consultative Conference accepts proposals such as Palden Donyo's, it will forward them for action by local legislatures or government authorities.
The Tibet committee has been convening for its annual plenary session since Tuesday, and it ends on Sunday. It will also hear the autonomous region's government report and its courts' and prosecuting authority's reports.
Palden Donyo is just one member from a rising force with a religious background. Religious figures hold 115 seats on the political advisory body in Tibet, with the group taking up 18.7 percent of the 615 seats.
Latsan, deputy general secretary of the Tibet committee, said, "The situation ... will make contributions to the scientific development, harmony and stability, ethnic unity and livelihood improvement in Tibet."
Jamyang Chodrak, a lama at the Ramoche Temple in Lhasa, said, "The rising number of religious figures in the conference shows religion carries increasing political weight. It means monks and nuns will participate more and discuss political agendas more."
Tub Tandragpa, a Living Buddha and newly elected member of the conference, said more religious figures joining the political system is a requirement that temples have to meet for development.
"This system bridges religion with decision-makers, and gives us a channel to effectively voice our difficulties," he said.
"I can do more to help others with the new role, and contribute to building a harmonious Tibet."
Palden Donyo added that he will submit at least three proposals every year in his five-year term as a political adviser.
"Then I'd like to look back at what I have done over the five years."
Contact the writers at wanghuazhong@chinadaily.com.cn and daqiong@chinadaily.com.cn