A major appeal has been launched to find a kidney donor for an armless artist with uremia who is in "serious danger" of kidney failure.
Doctors say painter Liu Jingsheng, a Beijing resident who lost both limbs and sustained severe stomach injuries in an accident almost 35 years ago, is unable to undergo dialysis due to his disability.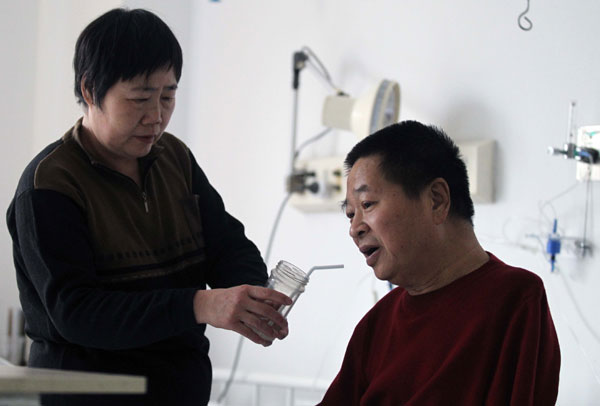 Mao Dahua cares for her husband Liu Jingsheng, an armless Beijing artist, at a hospital in the city on Saturday. Suffering from kidney failure and unable to undergo dialysis, Liu is looking for kidney donation to save his life. [ZHU XINGXIN / CHINA DAILY] 
The safest way to perform vascular dialysis is through an arm vein or the abdomen, but neither is suitable for Liu, said Ma Yingchun, director of nephrology at Beijing Bo'ai Hospital, where the 60-year-old is being treated.
"It's possible to use veins in his neck or legs, but it would be very risky to do so on a regular basis as it's likely to cause infection and blood clots," she said. "His life is in serious danger."
Liu, who is also a skilled calligrapher, is on the waiting list for a kidney.
Beijing Disabled Persons' Federation has launched an appeal to speed up the process. However, calls and e-mails have so far been from people offering cash donations or their own kidneys, which is illegal in China.
Organ donations are only legal between close relatives, or when organs come from a recently deceased person whose family has agreed to donate his or her organs.
"We've received many calls, with some people saying they wanted to donate a kidney because they were touched," said Kou Zhengling, a spokeswoman for the federation. "Some asked for money in return.
"We've not yet heard from anyone who has agreed to offer the organs of a dead relative or a relative in a terminal condition."
Kou conceded that it is unlikely there will be legal offers from the calls and e-mails.
An expert on China's organ transplant system who did not want to be identified said it may be a long time before Liu is matched with a suitable donor.
"We can feel the innocent enthusiasm from the public, but we must do it legally," said a worker at the Beijing Disabled Persons' Federation who gave his name as Han. "I feel sad when I realize we can only help this much."
Despite his situation, Liu said he will be comforted if his case raises awareness of organ donations.
"It will be fortunate if I finally get one," he said, "but it will also be fortunate even if the organ I get is not suitable, because it will save someone else's life."
Contact the writer at wangqingyun@chinadaily.com.cn