Hu Hong, a 74-year-old folk art lover in Sichuan province, had a pleasant surprise when children dressed in ancient Chinese costumes performed jinqianban, a form of folk music, in Chengdu's Jincheng Art Palace on Saturday afternoon.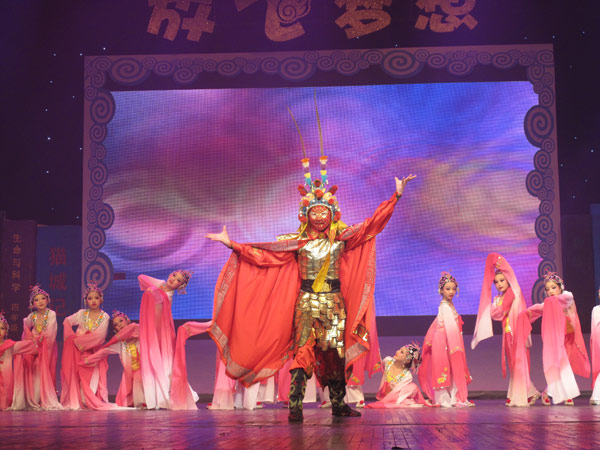 Pupils perform Sichuan Opera in the Second Sichuan Children's New Year Party held on Saturday. [Photo/chinadaily.com.cn]
Performers of jinqianban sing while striking bamboo sticks.
"With singing to narrate a story, jinqianban, which has lively rhymes and is humorous, had its debut in Sichuan some 300 years ago. It was quite popular when I was young. But not many people know how to perform it nowadays," Hu said.
The performance by students from the Chengdu Paotongshu Primary School in the Jincheng Art Palace is a time-honored program, which tells the story of a young scholar who could recite all the Chinese classics but did not know how to cross a small ditch because the method could not be found in any book.
Their performance was part of the Second Sichuan Children's New Year Party held that day.
Sponsored by the Sichuan provincial department of culture and the Jincheng Art Palace, the party drew top-notch young performers from across Sichuan who presented traditional art forms such as jinqianban, the changing facial masks of Sichuan Opera, and recited ancient Chinese poems.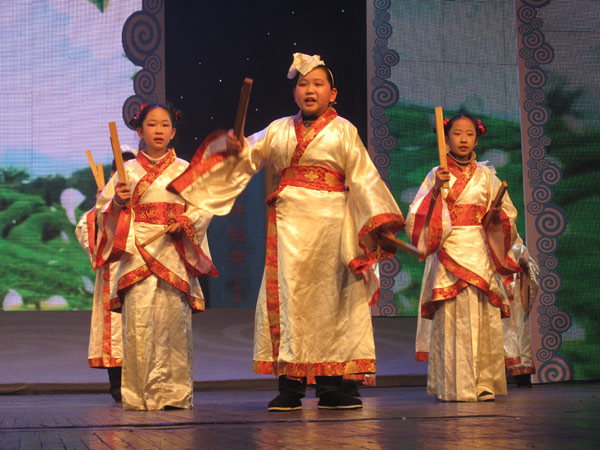 Pupils from the Chengdu Paotongshu Primary School in Sichuan province perform with the accompaniment ofjinqianban(bamboo sticks with coins inserted) in the Second Sichuan Children's New Year Party held on Saturday. They narrated the story of a young scholar who could recite all the classics but did not know how to cross a small ditch because the method could not be found in any book. [Photo/chinadaily.com.cn]