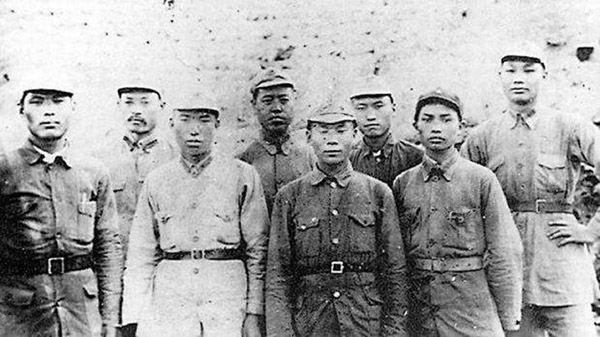 Tu Tongjin (first from right) in a group photo with other Red Army soldiers who were part of the medical team in 1937. [File photo/Xinhua] 
Few may have led a more legendary life than him: born in the year when the First World War broke out and still living today more than a century later; more interestingly he was among the one quarter of the total Red Army soldiers who survived the torturous Long March (1934 - 1936) and then became a Chinese trailblazer in neurosurgery with a doctorate degree from the Soviet Union.
Tu Tongjin, now 102 years old, not only completed the Long March, but also reached another milestone: he got a doctorate degree in medicine, becoming one of only three Red Army soldiers to earn a doctorate. Today, he is the only surviving one.
Tu, from a rural family in East China's Fujian province, underwent a life-changing experience when he heard a speech at the age of 15. In 1929 when the Red Army crossed his hometown in Fujian, Tu was enthralled by Mao Zedong's speech on China's revolution and decided to join the army.
At the age of 18, he was finally enlisted and was assigned to be a military surgeon, which later became his life-long career pursuit.
On Sep 30, 1934, against his parents' objection, Tu insisted on following the forces of the Ninth Corps of the First Front Red Army during its Long March.
The expedition not only fought against the Kuomintang troops but also battled nature and death. Although he didn't see action on the frontline as he was a military surgeon, the nonstop work of treating soldiers' wounds and preventing outbreak of diseases meant his job was deeply exhausting. Once he was so sleep deprived that he almost fell off a cliff. Luckily, the tree branches on the side of the cliff broke his fall and he cheated death by a whisker.
"The hardship suffered during the Long March can never be forgotten," said Tu.