BEIJING - A fresh cold front will sweep most parts of China from Wednesday and disperse the fog that has shrouded Central and East China in recent days, weather forecasters said.
The National Meteorological Center (NMC) announced Monday to maintain a yellow alert for fog in most parts of the central and eastern regions over the coming 24 hours. Yellow alerts rank the third after red and orange in China's four-tier color-coded weather warning system.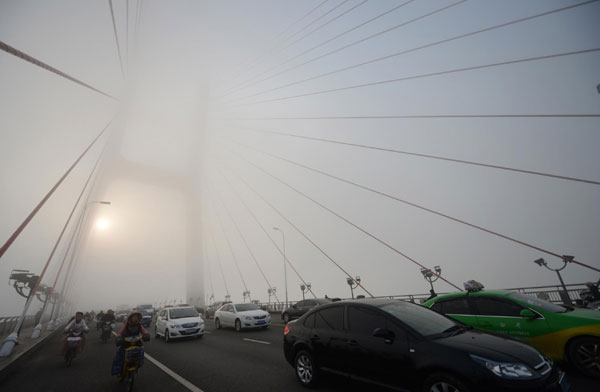 Heavy fog envelops Nanchang city in Jiangxi province on Jan 14, 2013. [Photo/Xinhua]
Visibility will be decreased to within 1,000 meters in Beijing, Tianjin, Hebei, Henan, Shandong, Liaoning, Anhui, Jiangsu, Zhejiang, Fujian, Jiangxi, Hunan, Hubei, Sichuan, Yunnan, Guizhou and Guangxi, the NMC said.
Meanwhile, visibility will be reduced to below 200 meters in some areas, the NMC said.
Ma Xuekuan, chief NMC forecaster, attributed the lingering fog to a weak cold snap and stable atmosphere, which have confined air pollutants to one area.
Continuous foggy conditions have dragged down air quality, as some affected cities have recorded worsening PM2.5 readings. Some expressways in North China were closed for road safety.
PM2.5 is a gauge that monitors fine particulate matter with a diameter of 2.5 microns or less, which is considered to be hazardous to human health.
Related stories:
Smoggy weather engulfs large areas of China
Fog, haze lead to big spike in pollution levels
Beijing air pollution reaches dangerous levels