Two men suspected of robbing a jewelry store in Anhui province remained at large on Sunday after escaping with their loot the day before.
The robbery occurred around 7:50 am on Saturday, when workers at an outlet of Laofengxiang Jewelry in the Feidong county were preparing to open the business for the day. The two robbers broke into the store, smashed five counters with hammers and made off with jewelry.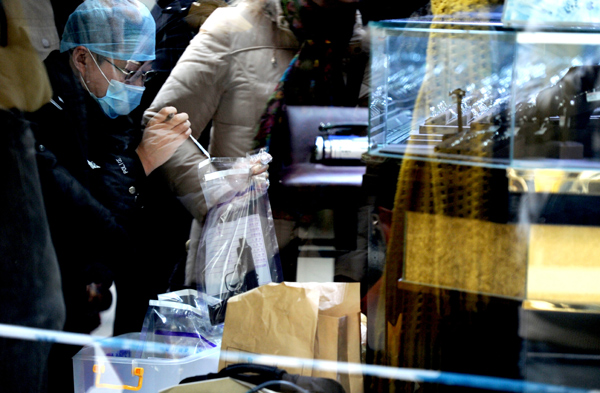 A police officer examines the starter pistol believed to have been used by two men when they robbed a jewelry store in Feidong county of Anhui province on Saturday. [Ma Qibing/For China Daily]
Han Dongya, deputy mayor of Feidong county, confirmed on Sunday that the robbers had escaped by the time the police had arrived.
A nearby shopkeeper named Song said he rushed to the store after hearing a saleswoman crying for help. He saw two robbers putting jewelry into blue bags.
"I wanted to trap them in the store, so I used all my strength to try to hold the glass door shut," he was quoted as saying in a report on anhuinews.com, an Anhui news portal.
He said no security guards were in the store during the robbery.
The robbers got out through the glass door and attacked Song with their hammers. They injured Song's left index finger before he could take away one of the robbers' hammers, the report said.
Four passers-by joined in the fight, prompting one of the robbers to brandish a pistol. Song, a veteran, said he quickly saw the weapon was a fake.
"I told everyone it wasn't a real pistol and that there was no need to be afraid," Song said.
One of the passers-by punched one of the robbers, causing him to drop his pistol, according to the report.
Leaving the weapon behind, the robbers tried to escape on a motorcycle, but were cornered by a man in a car, forcing them to flee on foot.
For about 200 meters, Song tried to follow them, but he lost sight of them in the day's thick fog, the report said.
Both robbers wore jackets and were between 173 and 178 centimeters tall. They didn't speak at all during the fight, making it impossible to judge if they were local residents, Song said.
A saleswoman at the store said most of the stolen jewelry was gold necklaces. She estimated the loss to be about 1 million yuan ($160,900).
Xi Xuyou, an officer in the county's public security bureau, said police recovered the robbers' pistol - which was a starter gun - a hammer and motorcycle.
Police are using video from the store's surveillance cameras to try to identify the robbers, Xi said.
Contact the writers at tianxinci@chinadaily.com.cn and anbaijie@chinadaily.com.cn