China's young singles under pressure from parents and family to get married are increasingly turning to websites to find Ms or Mr Right. Xu Lin finds out how effective these matchmaking networks are.
Li Fei, 28, logs on the online dating platform NetEase Huatian every day hoping to find his ideal life partner. He chats up young women online, and sends online messages to those he's interested in.
"I'm still looking for my true love. I get many messages once I post something interesting on my profile. Then I realize it's not so difficult to make friends online," says Li, an engineer from Beijing.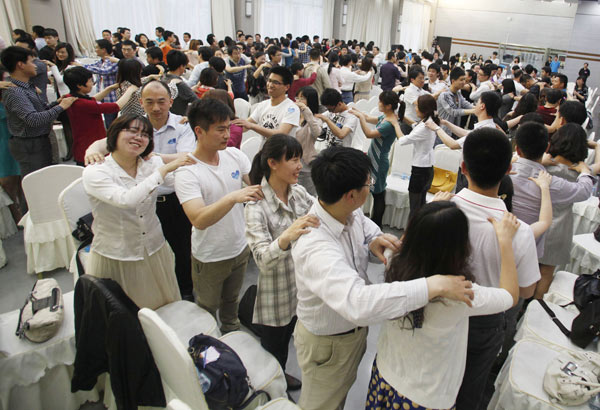 Experts say the transition for online dating to real-life interaction is very important, so dating parties like this at the Chaoyang Museum of Urban Planning are often the next step forward. Xinhua
NetEase unveiled its online dating platform in November, and the beta version is now being tested in Beijing, Shanghai, Hangzhou, Guangzhou and Shenzhen. Its target customers are people who like to use the Internet and smartphones, with an average age ranging from 20 to 35.
Users have to register with their identification card number or mobile phone number.
With the development of matchmaking sites on the Internet, more and more Chinese turn to such websites since these allow them to filter the requirements for their ideal partners.
"I have more choices online and feel more relaxed. Huatian is more suitable for young people. Compared with other sites, the services are all free, and I don't feel like I am a merchandize for sale," says Zhang Xiaomo, 26, a magazine editor from Beijing.
Like others, she often uploads her pictures, writes down her feelings, and browses to see whether there are suitable young men. She gets many online messages and chats with some of them.
"Even if some are not suitable as lovers, we can still be friends," she says.
In December 2012, Nasdaq-listed Jiayuan.com Ltd published The 2012-2013 Report about Marriage Values among Young Chinese together with the National Population and Family Planning Commission.
According to the report, there are 249 million unmarried Chinese above the age of 18, and men are more anxious than women to get into dating, relationship and marriage.
Among the unmarried population in the post-1970s, post-1980s and post-1990s, there are 23.15 million more males than females. The imbalance between men and women is obvious and the ratio among the post-1970s population is about 2 men for every woman.
According to Wan Qi, product manager of NetEase Huatian, the criteria for most is not just about whether the potential mate has the right jobs and properties, but also matching lifestyle and values.
Guo Mengmeng, 25, from Beijing, met her current husband the day she registered with Jiayuan.com in January, and got married in May.
Jiayuan has more than 73 million members and every day, about 7,000 change their status to "in a relationship" or "married".
"I was attracted to his online profile including his self-introduction and photos, so I sent him an online message. It turned out we share a lot in common, and we talked on the phone for seven or eight hours in the first fortnight," she says.
"I felt less pressure later because I didn't have to go to the blind dates arranged by my family. Also, it's more flexible as I can browse the Internet in my spare time and read various people's profiles on line," she says.
"Sometimes I receive funny and embarrassing messages, because the young men don't know how to talk to girls the right way," Zhang says.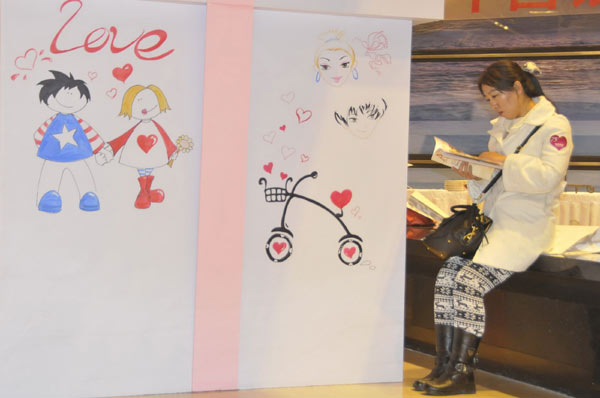 A young woman at a party organized by a a dating website party at China Central Place of Chaoyang district in Beijing on Dec 4. Feng Jun / For China Daily
She says the website can train these young men on how to make better conversation. They can also organize social activities offline or develop more online functions to make users interact with each other.
Liu Fengqin, chief psychologist of The Maple Women's Psychological Counseling Center in Beijing, says after getting to know each other online, the transition to real life communication is very important.
Potential partners have to know what suits them best, and they have to adopt a mature attitude as well. It is also important to thoroughly understand each other's family and social background, including the type of friends.
"Online communication is purely words, but a marriage needs more than verbal communication. While meeting one's online date, one should be aware of safety and self-protection, and avoid meeting in private places at first," she says.
She says online dating websites should provide more services such as training the young people how to get along with each other and one's families.
Zhou Zhongxiao, vice-president of Jiayuan, couldn't agree more.
"Compared with the dates introduced by families or friends, it's difficult to ensure the authenticity of the identities of the online dates. One needs be very careful, in case being deceived," Zhou says.
"The domestic online dating websites, which are just simple platforms to make friends, are still developing. More value-added services are needed, such as psychological counseling, and help for those who are in a relationship or marriage," Zhou says.
"We also organize activities for users to meet each other, such as offering cheap movie tickets, but some users don't like being arranged."
As the trends indicate, only more and more people will be turning to the Internet as a way to interact, and dating websites will have to develop more mature services to satisfy the demand.
Contact the writer at xulin@chinadaily.com.cn