WUHAN - A campaign is afoot in Chinese schools to improve children's literacy, as educators have warned that young people are increasingly having problems writing and reading Chinese due to their extensive use of electronic devices, as well as a lack of attention paid to traditional culture.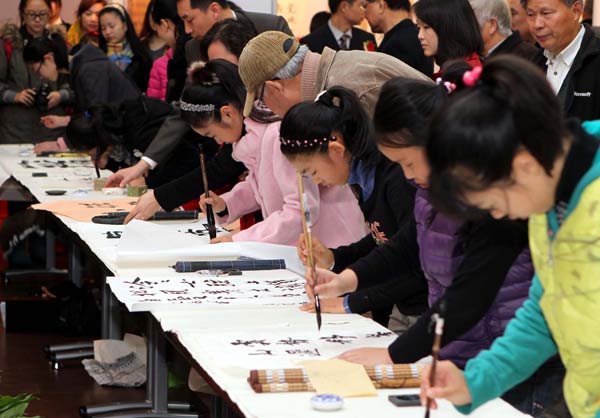 Young participators write Chinese brush calligraphy during an international calligraphy art exhibition in Shanghai on Nov 24, 2012.[Photo/Xinhua]
Beginning this fall, elementary schools in Central China's city of Wuhan will require 420,000 of their students to read classical texts for 20 minutes every morning, as well as practice writing Chinese characters for 20 minutes in the afternoon each day.
Related: Giant calligraphy offers a big lesson
The "Get Close to the Mother Tongue" campaign began in the city's Wuchang district in 2010 and caught the eye of the Ministry of Education earlier this year. Now the ministry plans to roll out similar campaigns elsewhere in the country in an attempt to counteract a widespread problem referred to by some as "character amnesia."
"Pinyin," a writing system that transcribes Chinese characters into Latin script, is the most widely used input method for phones, computers and other electronic gadgets. Pinyin only requires users to recognize characters as they are typed using the Latin alphabet; users do not have to write characters out physically.
Children who have been raised with computers and mobile devices have become less reliant on handwriting. As a result, some children have trouble writing some of their characters, particularly those that are not used frequently.
Although Foreign Minister Yang Jiechi is a well-known figure in China, few students are able to write the character for "chi" in his given name. Some students also have difficulty remembering how to write the complex form of "er" - meaning "two" - in commercial or financial contexts.
As consoles and iPads replace books, educators worry that children's language skills are becoming feeble.
When writing essays for school, some students omit regular characters in favor of symbols and English abbreviations that are popularly used in web forums and text messaging.
"When you read their writing or listen to what they say, you realize what a limited vocabulary they have," said Zhang Jiguang, headmaster of the the Wuchang Experimental Elementary School.
A survey conducted by the education bureau of the Wuchang district indicated that the ongoing campaign has been successful, with more than 75 percent of 50,000 students aged 6 to 12 able to write Chinese characters correctly.
The survey also showed that a number of children have started studying calligraphy and poetry.
"I practice calligraphy every day and everybody says my handwriting looks much better now," said Li Zemei, a fifth grader at Wuchang Experimental Elementary School.
Student Ji Yuchen said that by reading classic books aloud every morning, he has been able to improve his accent when speaking "putonghua," or Standard Mandarin.
"The last couple of years have seen a sea change," said Zhu Zhengzhou, headmaster of the Wuhan Jiyuqiao School.
A report by the Ministry of Education said the campaign will increase young students' knowledge of traditional culture, make them feel more patriotic and help them recognize the dignity of their native language.
"We want more schools and cities to join so we can promote our own language and culture and solve major problems in Chinese education," said Xu Dingbin, chief of the Wuhan Education Bureau.