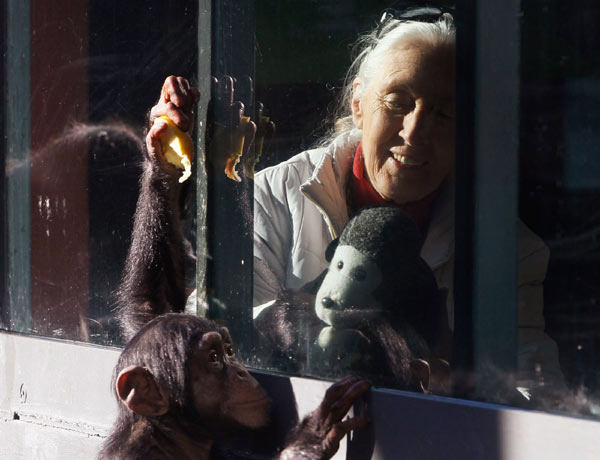 Britain's Jane Goodall is the world's leading authority on chimpanzees. Here she interacts with the 2-year-old chimpanzee Sule at Taronga Zoo, in Sydney, 2011. [Photo/Agencies]
On primatologist Jane Goodall's latest visit to China, she spoke out to the country's youth and Erik Nilsson, saying there is hope for the world's environment if we use our brains.
Jane Goodall has spent decades sharing her green dreams with the world.
And China's youth got a chance to share their green dreams with the 78-year-old primatologist, UN Messenger of Peace and iconic environmentalist, on Nov 4.
Goodall perused the environmental project displays set up by youngsters, ranging from primary school students to university seniors, who are members of her NGO Roots & Shoots at the Sharing Your Green Dream with Jane Goodall: Roots & Shoots China Summit 2012.
"My overwhelming impression was enthusiasm," Goodall says. "They're so concentrated on what they're doing. They're having fun and learning from hands-on experience."
China's Roots & Shoots offices support more than 600 branches. Its first China group started in 1991. Goodall says she hopes to expand in rural areas.
"Once young people see the problems ... things can change," Goodall says. "I can say, the world is beginning to change."
Several of the kids were dressed as bears or sharks, or had visited the animal face-painting booth advocating wildlife protection.
Pingshandao Primary School students showed Goodall and other visitors comparative displays that demonstrated the benefits of adding grass to foam water filters.
The school's environmental protection teacher Liu Yan says Pingshandao started its work after she met Goodall years ago.
"You can see she has had a huge impact on China," Liu says, waving her hand at the crowded room full of displays.
Lanzhou Jiaotong University senior Tao Lili was thrilled to meet Goodall.
The 21-year-old, who's a member of the special-project-winning Roots & Shoots group Green Engineers Society in Gansu's provincial capital, says she read about the primatologist in her textbooks as a little girl.
Tao's organization surveyed the needs of a poor ethnic area in the province's north and built water facilities for villagers. They also started a green bank to trade recyclables for flowers and collected secondhand books for impoverished areas.
"Goodall shows us that if you really want to do something, even if you don't have a high level of education, you can still do it," Tao says.
Tao, who plans to teach foreigners Chinese upon graduation, says that because of Goodall's inspiration, she'll remain involved in environmental work and communicate with foreigners to learn about their protection practices and share China's with them.
Cui Jinan, a 14-year-old student at the Experimental School Attached to Capital Normal University, says "it was a dream come true" to show Goodall their Roots & Shoots projects protecting moon bears and planting organic traditional Chinese medicinal herbs.
Pingxinlefang International Language School students showed her a paper-made stool created from the school's newspapers, as well as soap made from kitchen waste.
"She's a great woman who's very supportive of us," 16-year-old Pingxinlefang student Ju Zihe says.
Yucai School student Huang Xiwei poured translucent kitchen water into plastic bottles, capped the containers and asked unsuspecting visitors to turn the bottles upside down. The murky water instantly turned crystal-clear. The 11-year-old girl asked them to guess how that had happened. When it was obvious they were stumped, she told them to look under the caps, where they discovered purification patches.
"It was great to meet Goodall in person, because you can usually only see her on TV," Huang says.
Visitors were given "Green Dream" maps that operated like passports and collected stamps from the displays they visited.
The Green Yard group offered samples of meat substitutes with explanations about how eating less meat cuts down on greenhouse gasses and other pollution.
Goodall later took to the podium to greet the youths and other attendees with pant-hoots, a typical chimpanzee greeting from the forest to which she longs to return.
The British girl who always loved animals - her mother said she took earthworms to bed at age 1.5 - ended up in Tanzania's Gombe, becoming a legend who redefined what it means to be human, as the first to examine our closest relative in the wild.
Her quest to save the Gombe's chimps evolved into a mission to create a better world for all living things.
As the first person to study chimpanzees in the wild, Goodall discovered they shared more in common with humans than anyone had imagined.
They kiss, hug, hold hands and pat each other on the back. They adopt orphans and engage in primitive warfare. They make simple tools, Goodall found.
"They teach us there's no clear dividing line between us and other animals on the planet," she says.
She travels more than 300 days a year as a speaker and as Roots & Shoots' founder. She spends a few precious days every year in the rainforest to which she has dedicated her life.
"What I've learned is that all of these problems are interconnected," Goodall says.
She says such global challenges are evident in China's breakneck urbanization.
The primatologist disagrees with biologists who see little hope.
"But, as long as we put economic development as the only goal, without thinking about a sustainable environment, then those biologists (will be) right."
Goodall explained to attendees why she doesn't believe the world is doomed to dystopia.
"You are my greatest reason for hope," she told them.
"My other reason for hope is this amazing human brain. When we use it the right way, we can perform miracles."
Contact the writer at erik_nilsson@chinadaily.com.cn.