Chow Tai Fook Jewellery Group Ltd shares on the Hong Kong stock market slumped nearly 5.6 percent on Friday after the top jewelry retailer on the mainland issued its first profit warning less than one year after listing in December 2011.
According to Chow Tai Fook's Nov 8 announcement , the company had warned that it expected its gross profit margin to fall 2 to 3 percent for the six-month period ended in September due to gold hedging activities as the price of gold increased.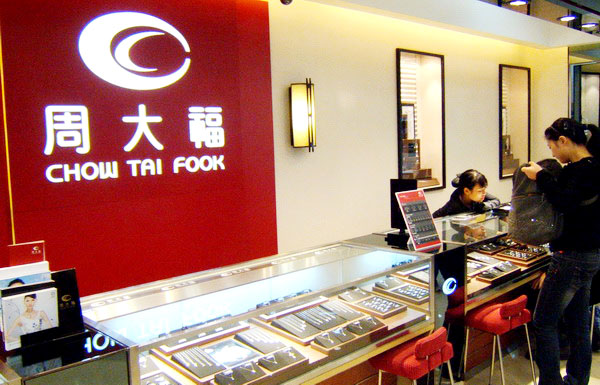 File photo of a customer looking to buy jewelry in a Chow Tai Fook store in Hubei province. [Ren Weihong/Asianewsphoto]
Gold price has registered a sharp rebound of more than 3 percent last week compared with the late August price. After the reelection of US President Barack Obama, the financial market perceived that the US government would continue to maintain the current quantitative easing policy that is expected to spur gold price to rise further.
"The Group expects that a decrease in gross profit margin combined with the impact from a slow retail market and weak consumption sentiment will altogether cause a decrease in the Group's profit in the six months ended Sept 30, compared to the corresponding period last year," Chow Tai Fook Chairman Henry Cheng said in an announcement.
The timing difference arising from the gold hedging transactions will be short-term, and the exposure will not have a material impact on the company's operations, Cheng said.
Chow Tai Fook said there would be a short difference between the time when any losses on gold hedging instruments were charged to the cost of goods sold, and the time when sales of hedged gold inventories were recognized.
Chow Tai Fook said it remained optimistic about the long-term development of the mainland's economy and maintained its points of sale opening plan. It also reaffirmed that it would not utilize hedging transactions for speculation purposes.
Chow Tai Fook share price shed nearly 5.6 percent to HK$10.18 ($1.31) a share in Friday. As of Friday, the retailer's share price has tumbled 32 percent from its listing price of HK$15 per share in December 2011.
"We continue to believe that the underlying business is under real short-term pressure with slower sales growth leading to heavier discounting," CLSA wrote in a research note, adding that rising operating costs, rents and salaries could lead to an earnings decline for the year.
"We believe in theory such a hedging loss will be recovered in the second half of 2013. We expect that the market might view this negatively despite its short-term impact," Deutsche Bank wrote in a research note.
Citibank and UBS research report predicted that Chow Tai Fook's net profit in first half of 2013 may fall to around HK$2.02 billion and HK$2.5 billion, respectively, due to the erosion of profit margins, sluggish growth in same-store sales and the deleveraging of the business operations.
Chow Tai Fook had in June posted a 79 percent jump in yearly profit to HK$6.3 billion ($812.80 million) for the fiscal year ended in March, with gross profit margin rising to 29.1 percent from 28.3 percent a year ago.
Reuters contributed to this story
oswald@chinadailyhk.com