What Hollywood hit film Bathing Beauty left behind after its smash-hit showing in China in the 1940s was something historic.
Locally called the "Esther hairstyle", named after the movie's lead actress Esther Williams, it created an enduring fashion wave that has washed over both everyday people and film stars in China for decades.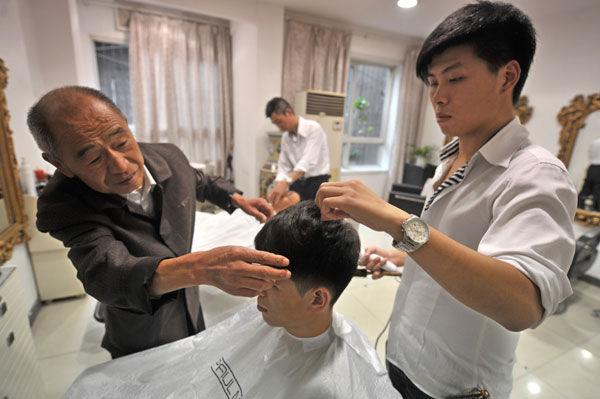 Retired hairdresser Wu Ziwen, 76, instructs his 25-year-old grandson, Wu Cheng, at Changshengtang barber shop in Wuhan, Hubei province. Photo by Xiao Hao / For China Daily
One of the persons who made the hairstyle accessible to Chinese fashion fans is Zhou Zishan, also nicknamed "the high nose".
Renowned for his solid hair-styling skills and a strong imitative ability, Zhou was then a very popular hairdresser in Central China's mega-city Wuhan, Hubei province, at a time when the hairstyling business for many still meant roving barbers serving people at their gates.
That's the sort of time-honored story you would hear at Changshengtang, meaning the "hall of longevity", China's first (according to records) and longest-lived barber shop.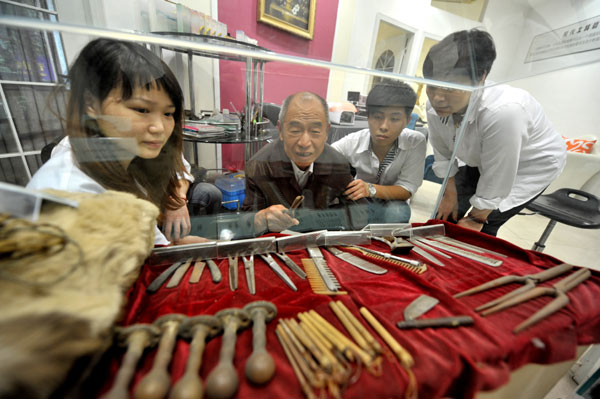 Vintage hairdressing equipment is displayed on Changshengtang's second floor to document its development. Photo by Xiao Hao / For China Daily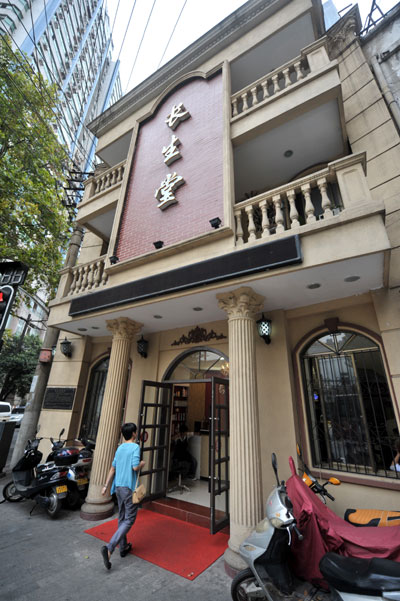 Changshengtang, or the "hall of longevity", is believed to be China's first and longest-running barber shop. Photo by Xiao Hao / For China Daily 
Changshengtang was founded in 1911 by a veteran barber, Zhang Junian. It was said to be one of Kuomintang chief Chiang Kai-shek's favorite barber shops and where many other high-ranking Kuomintang officials had their hair cut for "longevity" before they fled to Taiwan in 1949.
Thanks to its advantageous location in the bustling French concession in Wuhan, its pioneering use of Western hairstyling techniques, such as permanent wave and also its auspicious name, it was not long before the shop became a must-go place for locals, especially the rich, to have their hair cut for birthdays.
Its glory endured, except for a little downturn during the War of Resistance against Japanese Aggression (1938-45), till 1952, when the shop became State-owned and started repeatedly changing its name.
In 1978, it resumed the name of Changshengtang. According to its 57-year-old manager Dai Furong, who has worked there for almost 40 years, it embarked on frequent renovations to keep reviving its fortunes.
The original store was expanded and the updated look included glass-curtain walls. Then an even more stylish new shop was opened to attract youths. Dai says they always try to be the first to bring in the most advanced Western equipment and techniques. They keep sending young hairstylists to be trained overseas, and these stylists have won many international hairdressing awards over the past two decades.
But two years ago, when some old people who returned from overseas mourned the change of its original look and recalled the glorious days of Changshengtang, Dai recognized its historical value.
Based on their memories, she changed the shop to its original European-style look. Meanwhile, Dai has found all the old equipment from the store, which is now displayed on the second floor to document China's hair-styling business from the 1920s to the 1990s.
No matter how the shop's look has changed, Dai felt blessed to have inherited some of the shop's most valued traditions. They've kept a hairdressing log for regular costumers to ensure that dyeing and perming are maintained at appropriate intervals. They've also carried on their head massage tradition, believing that healthy hair is the basis of effective styling. Most importantly, they've inherited their predecessors' core techniques.
In the early years, Changshengtang was renowned for its "finger styling", meaning that with only their hands and a hair dryer, stylists were able to model the hair into different shapes such as chrysanthemums and clouds depending on what inspiration they had drawn from daily life.
Such skills require abundant training, says 76-year-old retired hairdresser Wu Ziwen, who started working at Changshengtang as a teenage apprentice. The training requires the stylists to bend their arms so that two cups full of water can be put on their elbows. During practice to improve the flexibility of their wrists and fingers, they have to make sure the cups stay in place and the water doesn't spill.
Though new equipment and tools now can do much of the work fingers once did, Wu says young apprentices at the shop are now still trained in the old-fashioned way and that's why they've attracted many return customers.
"Without solid basic skills, you can hardly ensure high quality," he says.
For example, he says that hair-perming devices in the old days were heated to a very high temperature to ensure the endurability of a hairdo, but the heat could damage your hair. Nowadays the heat is much milder, he says, so giving the hairdo endurance will largely depend on a stylist's finger technique.
"But the sad truth is, nowadays many young hairdressers don't have such basic training," Wu says.
That's why Wu's 25-year-old grandson Wu Cheng, like many other young stylists who've carried on their grandfathers' and fathers' torches at Changshengtang, has abandoned his job as a promising stylist in fancier hair salons to start from scratch at a place where customers are obviously older and teachers more strict.
In other hair salons, he says, it usually takes no more than two years for an apprentice to become a qualified stylist. But at Changshengtang, it takes between three to five years — and to be called a good stylist it takes at least eight years. That's not attractive to many young people, he says, but it's here that he can truly sharpen his skills.
"Before I came here, I would have said speed is the main thing I've pursued in my work. But now all I wonder is whether my work is precise enough," he says.
Contact the writer at hanbingbin@chinadaily.com.cn.