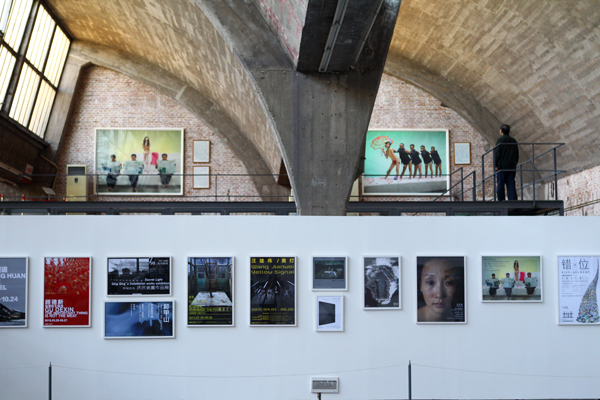 Retrospective of poster show aims to record the 10-year history of 798. [Photo by Zou Hong / China Daily]
A month-long festival includes highlights of Beijing's hotter than ever art zone, Chen Nan reports.
Having established itself in just five years as the most comprehensive and lengthiest event of the 798 Art Zone - thanks to a large number of participating artists, galleries and art centers - the annual 798 Art Festival is turning to play an educational role by increasing interaction between international and local artists and their audiences.
This year's art festival, running until Oct 21 at the 300,000-square-meter zone, features nearly 100 exhibitions and activities, from movie screenings to outdoor concerts and workshops.
Two key exhibitions feature sculptures shown in the art zone, while another presents a retrospective of poster shows. Both aim to tell the 10-year history of 798 and how it has forged closer bonds among artists and art enthusiasts.
According to Qi Wanji from the administrative committee of the 798 Art Zone, the festival has never been organized and presented at such a high level as this year's event.
"We've mapped out events to tell people of the past, present and future of the iconic art center of the country," she says.
Zhu Qi, an art critic, says this year's 798 Art Festival is also a "crucial aspect of what we do as artists".
As the curator of the first year 798 Art Festival in 2007, Zhu recalls that the first year was "a total chaos".
"Paintings were put upside down. Installations were stolen. Some works were considered too pornographic to be exhibited," recalls Zhu, who is the curator of the ongoing Poster Exhibition of 798's 10-Year History, held at 798 Space gallery inside the zone.
To tell the history of exhibitions since 2003, Zhu chose more than 100 exhibition posters, which he regards as "valuable and iconic".
"Many audiences came to 798 art district after the 2008 Beijing Olympic Games.
"Some came even later. We want to show them what kind of exhibitions were held in the early days of 798 art district," he says. "After the curiosity of arts, people might start to wonder 'how and why 798 art district was born and what it has and will bring to us'."
Zhu tried to collect all the relevant exhibition posters, which have witnessed the development of 798 art district. But some galleries either moved out or just closed down and so some could not be found.
"Personally, I like the artworks exhibited at 798 around 2006 and 2007, which were avant-garde and experimental," Zhu says. "Artists were much more for art's sake compared to today. Some artists' works are now too commercial and lacking in thought."
Around 2000, as he recalls, some artists, galleries and book stores moved into the area, which was formerly known as Factory 798.