An embalmer shares her experiences living among the dead. Xu Wei reports in Chongqing.
Death is Chen Jiao's life. The 25-year-old embalmer believes she shares a special relationship with those she prepares for funerals.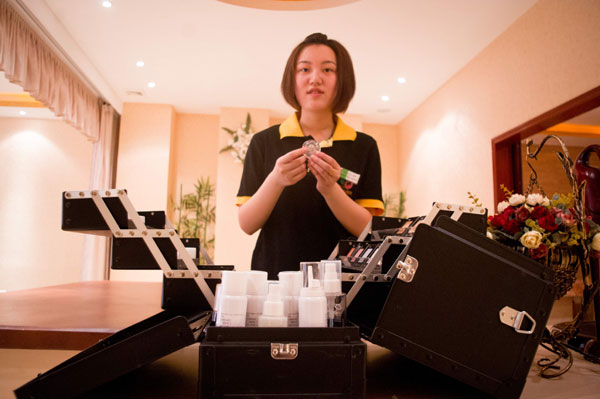 Chen Jiao prepares for an embalming session at the Jiangnan Funeral Home in Chongqing municipality. Photo by Wang Xiangyu / for China Daily
"My job is to make the deceased look perfect for the last time the world sees them," says Chen, who works at the Jiangnan Funeral Home in Chongqing municipality.
"A benevolent heart is a must. You have to put yourself in the relatives' shoes."
Chen says she takes great satisfaction from her job.
"You can sense the families are surprised by the appearances of the deceased. Some say their loved ones look better at their funerals than when they were alive."
Embalming has become an emergent business since four of the country's colleges started offering funeral service degrees, China Youth Daily reports.
"The idea of spending every day preparing the dead scares some," Chen explains.
"Some people keep their distance. It's hard to change stereotypes. One of my career ambitions is to let people know this profession deserves respect."
It usually takes about an hour to embalm a person. It can take longer in some cases, such as when the person drowns or dies in a car accident.
"You have to totally concentrate to avoid tearing their skin while bathing or shaving them," Chen says.
It's also difficult to move the stiff bodies, she adds.
Her first embalming experience took place when she was a sophomore and interned at the funeral home.
"It was a man in his 70s who didn't have children," she recalls.
"He was just skin and bones. His fingernails weren't trimmed."
She recalls feeling afraid.
"I didn't know what to expect," she says.
"Fear mostly stems from uncertainties. It disappears when you're familiar with your job."
Some cases proved very difficult because the deceased person's skin would easily tear.
The job can be exhausting.
"If you're tired after one body, you get a rush when you hear another one is coming in," she says.
"You live on call and must be able to shift into work mode at any time."
Funeral home workers get few holidays off because these are especially busy times for their trade. The job goes beyond embalming to include guiding mourners.
"We're trying to get the public to commemorate the dead with flowers and fruit instead of fireworks and joss paper," Chen explains.
Her manager Jiang Huichang points out young embalmers need to be monitored to ensure their emotional health.
"We have to keep an eye out for any unusual behavior," he says.
"Fortunately, we haven't had any problems yet. This career must be a labor of love. If you're only doing it for money, it'd be hard to continue."
Chen says she found it easy to detach from her job.
"I don't think I'm different from other women," she says.
"Maybe I have a more mature outlook on life than some. But I'm just as playful as anyone."
Chen chose to study funerary services in 2006 because it was a less popular profession that offered job opportunities.
"My parents said they'd support me as long as I liked it," she says.
"But many of my friends were shocked. It baffled them."
She says that even her schoolmates discriminated against her.