A six-day exhibition of paintings from a 12-year-old autistic girl opened in the Shangri-La Hotel in Beijing on Sept 24.
The girl, Zhizhi from Gulou district of Fuzhou, Fujian province, is already famous on the Internet. She has been called "Little Picasso" by netizens, as the style of some of her paintings was compared to the late legendary Spanish artist.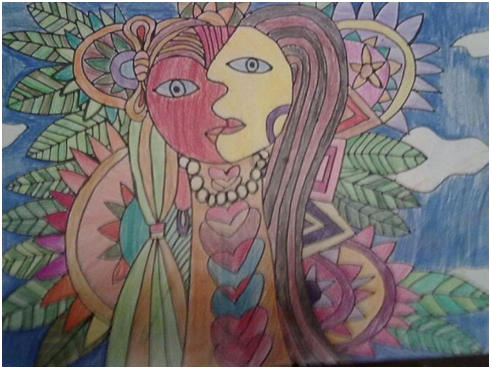 Pictures of paintings by Zhizhi provided.
Zhizhi and her paintings became known to the public after her mother posted some of the paintings on the social-networking platform Sina Weibo in August.
The mother, Huang Yanzhu, hopes that netizens will buy the paintings to support her daughter's further training.
"I want to use the money to continue my daughter's treatment and her painting," Huang wrote on Weibo.
"I am not using my daughter's paintings to make profit," Huang said, responding to concerns from some netizens. "This (painting) is what she likes to do, and what I want her to keep doing. What I do is all for my daughter. "
The posts on Weibo attracted the attention of Sankeyou, a charitable foundation that focuses on autism. The foundation bought about 100 pieces of Zhizhi's paintings and organized the exhibition.
An autistic kid
Zhizhi seemed to be different from other kids before she was diagnosed with autism when she was 4. Her family then took her to many institutions for treatment.
"I once took my daughter to an institution in Qingdao in 2006. She got better there. But after one and a half years, we were ran out of money and had to return home," Huang said.
Huang also took Zhizhi to several local institutions. But she thought they were not as good as the one in Qingdao. Lacking money, Huang gave up treatment.
She now treats her daughter at home based on what she has learned about autism.
"She can make very simple expressions now but still is very limited," Huang said.
Zhizhi went to a public school for education after she was 6. But that school is mainly for mentally disabled children. Huang didn't like that school and sometimes taught her girl at home.
"Now she can do math calculations within 20," Huang said a little proudly.
A gifted painter
Huang saw that Zhizhi likes painting when the girl was about 3 years old. Huang, who doesn't know anything about painting, began to teach the girl.
"She really liked it," Huang said, "She was happy when she was painting, and it was not very hard to teach her."
After Zhizhi was 6 years old, Huang sent her to the children's hall in the city, which has teachers who can teach her. "I also can learn how to teach at the hall," Huang said.
"I sometimes took her out to find materials that she could paint. On other occasions, I would find paintings from other famous painters, and she will imitate them."
Huang doesn't force Zhizhi to paint. But if the girl wants to, Huang will allow her to paint four or five pieces a day.
Zhizhi's paintings that imitated Picasso's were appreciated, and she soon got the nickname "Little Picasso".
After Zhizhi's paintings became famous, a local painter also found Huang and asked to teach Zhizhi. "He said my girl has potential," Huang said.
Now the teacher teaches Zhizhi for an hour once a week.
Huang hoped that netizens can buy her daughter's paintings. However, not many people have responded so far, Huang sighed.
But Huang said she will continue her plan.
"I hope she can be better trained and be a good painter, but this needs money. So I will still doing this," the mother said firmly.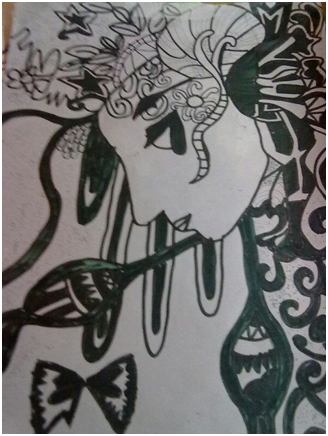 Pictures of paintings by Zhizhi provided.