SHENZHEN -- A ceremony was held on Sunday to mark the opening of South University of Science and Technology of China, a highly hailed pioneer in the country's higher education reform.
Located in the southern boomtown of Shenzhen in Guangdong province, SUSTC got the nod from the Ministry of Education in April as the first self-ruled university.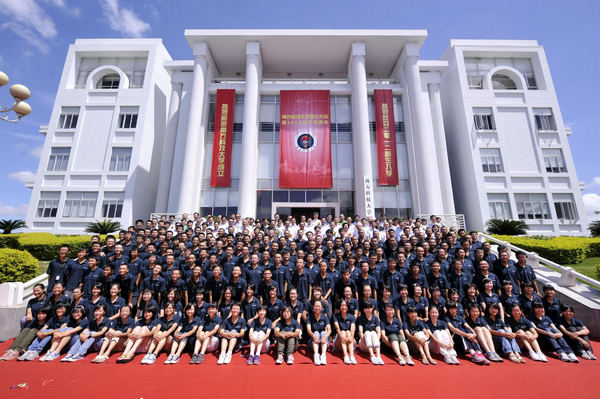 All freshmen pose for a group photo with faculty members and guests at the South University of Science and Technology (SUSTC) in Shenzhen, south China's Guangdong Province, Sept. 2, 2012. The founding ceremony and the opening ceremony of the new semester of SUSTC was held here on Sunday. The university is widely regarded as the country's first test for a new educational system meant to give the students better training for innovative research. A total of 188 students from six provinces of the country were admitted to the SUSTC this July. [Photo/Xinhua]
Zhu Qingshi, president of SUSTC, said at the ceremony that the institute's central task is to cultivate innovative talents for the country long plagued by a scarcity of creative minds.
"One problem of Chinese education is that it only evaluates students on their command of knowledge while ignoring and even dampening their innovative spirits," Zhu said.
SUSTC aroused wide attention and controversies after it vowed to build China's first professor-led and bureaucracy-free university and started enrolling students without approval from the MOE in 2011.
Zhu said he would establish a council to oversee the operation of the institute, challenging China's system of having appointed officials run universities, which is often blamed for stifling academic atmosphere.
Sunday's ceremony also marked the opening of new semester with 188 students, who were admitted this July based on their performances in the National College Entrance Exams (NCEE).
More than 70 professors from world-famous universities have been invited to teach at the institute, according to Zhu.
Shenzhen government, which has supported and sponsored the founding of the university, hopes that the institute could fuel the city's economic development with its academic strength.