SHENYANG - Typhoon Bolaven is expected to make landfall in northeast China's Liaoning province on Tuesday, the meteorological center of the city of Shenyang said Monday.
The center issued a yellow alert for Bolaven on Monday morning, the second-highest level in the country's four-tier color-coded weather warning system, predicting the severe typhoon will land in the city of Dandong in Liaoning and the northwestern region of the Democratic People's Republic of Korea (DPRK) on Tuesday evening.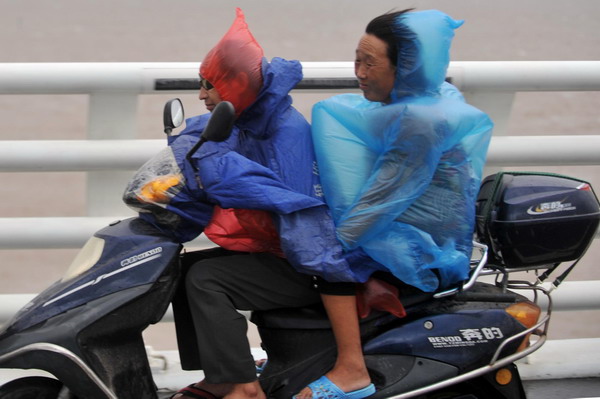 A motorcycle driver and a passenger move with difficulty against strong gales in Zhoushang, East China's Zhejiang province, Aug 27, 2012. Typhoon Bolaven was located 525 km southeast of the coast of east China's Zhejiang Province on Monday. It is expected to make landfall in northeast China's Liaoning province on Tuesday. A yellow alert, calling for storm surges between 50 to 150 centimeters along the coast between Shandong and Zhejiang provinces, was issued by the National Marine Environmental Forecasting Center. It also detected 10-meter-high waves in the East China Sea at 6 a.m. Monday. [Photo/Xinhua]
Ferry services on the Dandong section of the Yalu River, which is on the border between the DPRK and China, have been suspended, local flood control authorities said Monday afternoon.
Fishing boats have returned to harbor and authorities are evacuating scenic spots in the city before Baloven, the 15th typhoon of the year, arrives.    
In the coastal city of Dalian, the Dalian Port Passenger Service Company said that it will stop sending out passenger liners starting from 6 p.m.
The province's flood relief departments have also sent personnel to inspect reservoirs, bridges and roads.
Bolaven entered the East China Sea on Monday, bringing gales and downpours to eastern coastal areas, according to the Zhejiang Meteorological Observatory.
Flights linking the city of Ningbo and Jeju Island in South Korea, as well as the city of Taichung in Taiwan, have been canceled following the arrival of Bolaven, Ningbo airport authorities said.
Bolaven is also expected to bring strong winds and rainstorms to the eastern provinces of Shandong and Jiangsu, as well as the metropolis of Shanghai, on Monday and Tuesday, according to the National Marine Environmental Forecasting Center.
As of Monday morning, Jiangsu had evacuated more than 23,000 people from their homes and suspended shipping services on Taihu Lake, the second-largest freshwater lake in China, according to the province's flood control authorities.