There is a city in China with a population of less than 10,000 and an area of almost one-fourth of China's territory. It is Sansha.
The State Council approved in June the establishment of Sansha, a prefectural-level city that will administer the Xisha, Zhongsha and Nansha island groups and their surrounding waters in the South China Sea.
The government seat of Sansha will be stationed on Yongxing Island, part of the Xisha Islands.
What does Sansha look like and how is life there? A reporter from Beijing Youth Daily visited Yongxing Island.
There are two ways to reach Yongxing Island, by ship and by air. The airport on the island can now accommodate a Boeing 737, but there are no airlines based there. For most people, flying to Xisha Islands is still a wild wish. And traveling by ship is subject to weather on the sea, which changes a lot in June.
On the evening of July 2, when a warm breeze blew over the South China Sea, sending up sprays of water, and the clouds burned on the horizon, I got on board a ship to Yongxing Island for the overnight trip.
When I looked into the distance from the ship, a flaming sun was rising from behind the island, and the silhouette of the island came into focus. The verdant trees, tidy houses, broadcast tower, observatory and occasionally passing cars made the island feel like a "retreat away from the world".
"If you look down from the air, the island looks like a jade inlaid into the blue velvet-like sea," a visitor said.
When I stepped onto the island, at first sight I felt it was no different from other port towns. But on closer inspection, it turned out to be quite different.
It's not as boisterous as other ports. Even on the "busiest" Beijing Street, people passing by are seldom seen.
There are no tall buildings, but all kinds of service institutions, including government office, police station, hotels, a supermarket, restaurants, banks, post offices, a hospital, library, café and even an insurance company. But all those agencies are closed except the supermarket, which does not close until 10 pm. Residents on the island know one another well and if they need any service, they can call to open the door.
One film was repeatedly shown for a month, and some people came to watch every day, said a resident surnamed Zhang, who has been living on the island for over 20 years. People mainly rely on letters to communicate with the outside world, and it may take a few months for a letter to reach its destination. Since 2004, when mobile phone signals started to cover the island, it's easier for people to connect with the outside world, he added.
When I landed on the island, I found there are even fast 3G signals. "The 3G signal now covers an area of 10 sea miles around Yongxing Island. Life here is not as boring as it was before, thanks to the network," said a worker surnamed Fu.
Fresh water and energy used to be rare resources on the island and were brought in by ship. During the days I stayed there, I found life to be as normal as in other cities, except the occasional outage.
The local government of Xisha Islands spent more than 4 million yuan ($630,000) in the construction of a rain water purification plant and water storage tank between 1994 and 2006, and the problem of water shortage has since been solved. Rooftop solar power generators of 200 kilowatts were built in 2009, and two more diesel oil power generators, with an investment of 2.2 million yuan, were set up in February 2012. Today, power is not a problem here.
But the slogans advocating saving water and power can be seen frequently and may remind you that you are hundreds of kilometers away from the mainland.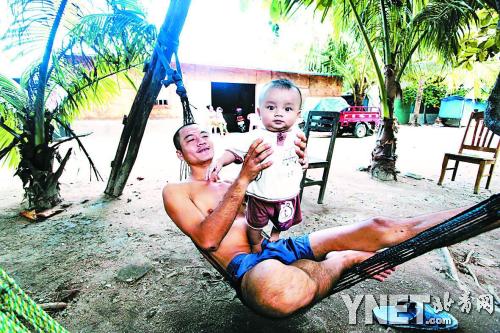 The youngest resident on Yongxing Island is only 6 months old. [Photo/ynet.com]