Officials say replacement footwear seldom returned for the use of other passengers
Beijing Subway stations have begun offering replacement slippers for people who lose footwear in the crowds.
The service, available at most of the 182 stations in the city, was introduced to coincide with the hot weather, when many people wear flip-flops.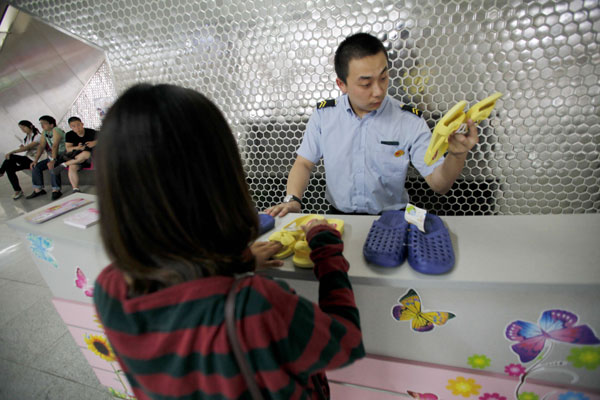 In Beijing's Xi'erqi subway station, a staff worker tidies up slippers offered to passengers who have lost their footwear among the crowd. Kuang Linhua / for China Daily
More than 200 slippers are available in Beijing, and at least five pairs are at each transfer station, where passenger traffic flow is the heaviest, said Sun Lijie, a publicity officer for the Beijing Subway.
He said every year staff members find shoes in underground passageways, carriages and platforms, especially during the summer.
"The slippers will serve as reserves to ensure passengers are not late for work or have to hop to the office," Sun said. "When one station is running short of backup slippers, we will allocate some from other stations temporarily."
Passengers who lose a shoe can ask any subway staff member for a pair of slippers, which are one-size-fits-all and come in several colors including blue, pink and yellow.
The service is the latest to be introduced by Beijing Subway to provide more convenience to commuters.
In the capital, commuters can borrow bikes to travel between their home and stations, while in Shanghai residents can also borrow bikes as well as umbrellas on rainy days.
However, many stations have seen a trend of items being loaned out but never returned.
Unlike the bike rental, Sun said people who request a pair of slippers do not need to register or leave their personal information.
"Having all the slippers back totally depends on the social morality of the public," Sun said.
Once returned, the footwear will be sterilized with disinfectant to prevent the spread of diseases.
Meng Xianqin, director of Jianguomen station, said passenger flow has increased since the summer began. Even around 1 pm, usually the least busy time of day, the carriages are packed.
"According to my observations, almost half of all women passengers wear slippers or similar shoes in summer," said Meng, who has worked for Beijing Subway for 32 years. "We have witnessed people losing their slippers so many times, and a replacement pair might be a great help for those who lose them."
In addition to the replacement slippers, the station has also prepared hundreds of raincoats and medial kits for emergencies, such as mint cream and water for sunstroke victims and brown sugar and candies for people exhibiting symptoms of hypoglycemia.
However, Xue Ning, deputy director of Jianguomen station, said that fewer than half of the slippers loaned out have been returned.
"We have to come up with some new slippers every day to meet the demand," she said. "We wish the passengers would return the shoes as soon as possible to satisfy other passengers' demand."
Yang Yue, 34, said she used to avoid wearing slippers while riding the subway for fear of losing them in congested carriages.
"I love wearing slippers in the summer. They're easy to wear and pretty, yet they are also easy to lose in the metro, especially during rush hour or rainy days," Yang said. "This is a very practical service. Even if no registration is required, I guess people who benefit from the backup slippers will return them, since it's for the benefit of the public."
Wang Chen, a 23-year-old freelance writer from Xi'an, Shaanxi province, who was traveling in the capital, said she was surprised by the service, and hopes it will be offered throughout the country, including in her hometown.
Mo Jinwei contributed to this story.
zhengxin@chinadaily.com.cn