LEIYANG, Hunan - Rescuers confirmed early Sunday that 11 of the 16 trapped miners were alive three days after they became trapped under a flooded colliery pit in central China's Hunan province.
Medical personnel had gone into the pit carrying stretchers and first-aid material, said the rescuers, adding that the 11 miners would be saved out of the pit in three groups and rushed to hospital for further treatment.
Sixteen miners were trapped in a pit of Qielichong colliery in Sandu township, Leiyang city, following a mine flood at 6 pm Wednesday. Of the 40 people working in the pit, 24 managed to escape.
But the accident was not reported to the local government until Thursday morning, which delayed the start of the rescue operation by almost 12 hours, according to local officials.
Six professional teams of 90 members and more than 1,000 people were at the scene to carry out rescue operations.
The mine owner, Liu Yaping, is under police custody.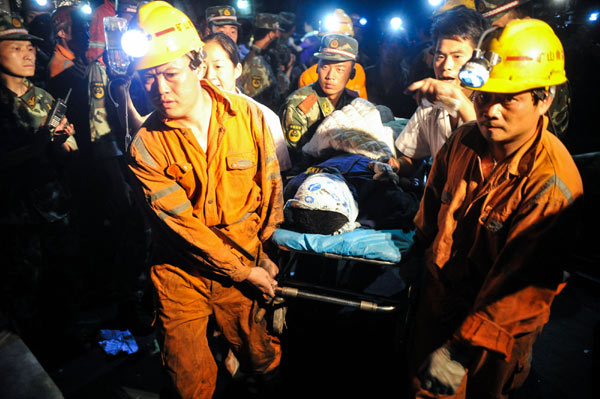 Rescuers carry a trapped miner out of a flooded colliery pit at the Qielichong colliery in Leiyang, Central China's Hunan province, July 8, 2012. [Photo/Xinhua]