HSINCHU, Taiwan - A tour bus carrying 38 mainlanders, one Taiwan's guide and a local driver overturned at noon on Saturday in northern Taiwan's Hsinchu city, killing the driver and injuring 39 others, four of them seriously.
All the injured were sent to hospitals in Hsinchu and adjacent Miaoli county for treatment. Among the four severely injured, all women, one lost four fingers from her right hand, one injured her cervical vertebra, one fractured a bone in her hand, and another got face lacerations. They are being treated and their wounds are not life threatening, according to rescuers and doctors.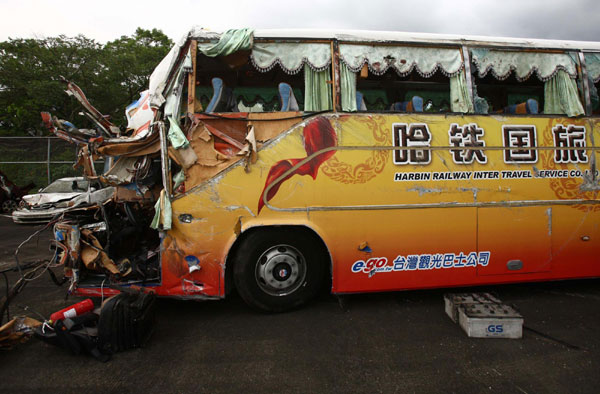 A bus is damaged in a traffic accident at noon on Saturday in northern Taiwan's Hsinchu city. [Photo/Xinhua]
Most of the injured sustained only slight injuries, mainly abrasions.
"The bus swung to the left, and then the right, and again, then overturned," an injured mainlander surnamed Tang said, lying on a hospital bed. He and his girlfriend both suffered minor abrasions on their foreheads, but he said the wound was not a big problem.
He added that the tour group members were from Harbin of Heilongjiang province in the mainland's northeast.
The tour bus was on its way from Taipei to Taichung where sightseeing at scenic spots including the Sun and Moon Lake was scheduled, when it overturned, the result -- it is thought -- of a burst rear-left tire.
The driver was crushed to death under the bus.
Local police said the cause of the crash is still being investigated. The bus was bought within the last three years and had recently passed a vehicle inspection.
According to Taiwan's tourism department, the bus was carrying 37 tourists and one tour guide from the mainland, plus the driver and another tour guide from Taiwan.
The tourist group was received by a local tourist company and was scheduled to stay in Taiwan from July 6 to July 13, Yang added.
An official from the Taiwan branch of the Association for Tourism Exchange Across the Taiwan Straits told Xinhua that the association is in close contact with Taiwan departments concerned to deal with the rescue work and aftermath.