China and Cuba signed a number of agreements on Thursday, covering several areas, as the Caribbean nation focuses on economic issues.
Cuban leader Raul Castro is on a four-day visit to China, which analysts believe will give him a good opportunity to survey China's reform success.
After President Hu Jintao held talks with Castro, both countries signed eight agreements covering, among other sectors, agriculture, healthcare and technology.
China and Cuba are both at an important phase in their development, Hu told Castro, who arrived for his first state visit to China, on Wednesday, since taking office in 2008.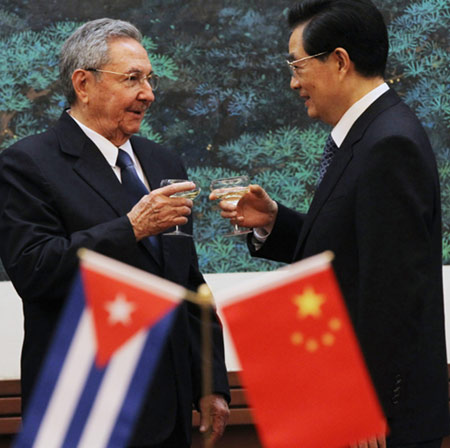 President Hu Jintao shares a toast with Cuban counterpart Raul Castro at the Great Hall of the People in Beijing on Thursday. XU JINGXING / CHINA DAILY 
To further boost and develop China-Cuba relations will enhance common development and promote cooperation between China and Latin America, Hu said.
Focus should be placed on increasing trade and cooperation in a number of fields, including energy and construction, Hu said.
Hu also suggested that both countries should coordinate more on key issues, including United Nations reform, climate change and sustainable development. Hu praised Cuba's socialist achievements and said China will always support the country in protecting its sovereignty.
Castro, the 81-year-old president of Cuba's Council of State and the Council of Ministers, said Cubans are proud of the ties between the two countries and their increasing cooperation.
Castro said Cuba is steadily promoting reform and exploring a development path consistent with its national conditions, to promote comprehensive and coordinated economic and social development.
Cuba attaches great importance to China's successful experience in development, Castro said.
He pointed out that trade, investment and renewable energy were areas that would benefit from greater cooperation.
Analysts said Cuba views China as a role model and wants to learn from its economic experience.
Cuba is particularly paying attention to economic cooperation since Castro is focusing on development and reform, said Qi Fengtian, an expert on Latin American studies at the Chinese Academy of Social Sciences.
Economic cooperation with China and other countries is important for Cuba to get out of its economic difficulties, but Cuba is not ignoring the rich tradition of political cooperation between the two countries, Qi said.
Cuba established diplomatic relations with China on Sept 28, 1960, the first Latin American country to do so.
China is Cuba's second-largest trading partner after Venezuela. Trade between the two, in 2011, reached $2 billion.
Cuba is taking a comprehensive approach to ties to get the most out of them, Qi added.
Noting that Cuba has a vibrant biotechnology and healthcare sector, Qi said cooperation between the two countries has obvious benefits.
Castro will also visit Vietnam, which is Cuba's main supplier of rice.
Cuba can draw on the experiences of other socialist countries that have been economically successful, said Yang Jianmin, an expert at the center for Cuban studies at the Chinese Academy of Social Sciences.
Contact the writers at chengguangjin@chinadaily.com.cn and zhouwa@chinadaily.com.cn