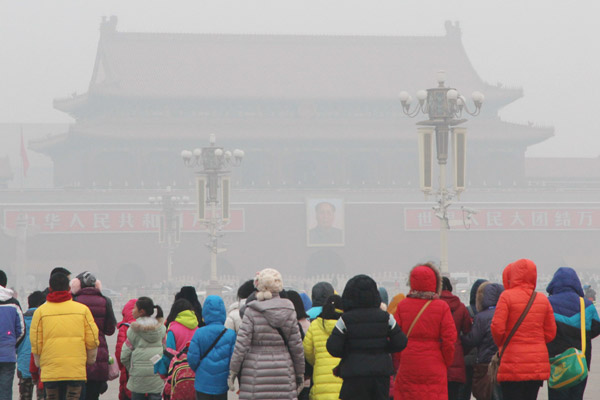 Visotrs at the Tiananmen Square during a hazy day in Beijing, Jan 16, 2013.[Photo by Wang Yueling/Asianewsphoto] 
BEIJING - Beijing Mayor Wang Anshun declared an "all-out effort" on Thursday to tackle air pollution by cutting coal use by 2.6 million tonnes and transforming 300 polluting companies this year .
Coal-burning boilers inside Beijing's fifth ring road will be eliminated and measures taken against coal burning in the capital's periphery, said Wang at the opening of the annual session of the municipal People's Congress, Beijing's legislature.
Four large gas-burning thermoelectricity centers will be completed, he said.
Smog enveloped Beijing on Thursday. Air quality hit the "most polluted" level. Nowhere was immune, as fog smothered provinces in east and south of the country
The city aims to ban all heavily polluting vehicles this year, cut new car registrations and promote new energy vehicles. There will be research into pollutant reduction technology and the sources of PM2.5 (airborne particles measuring less than 2.5 microns), Wang said.
Beijing released a five-year clean air action plan (2013-2017) in September. In 2013, the city cut major air pollutants by more than three percent; replaced 366,000 old vehicles; and overhauled 288 polluting factories.
A draft regulation on pollution treatment and prevention will be reviewed at the session.