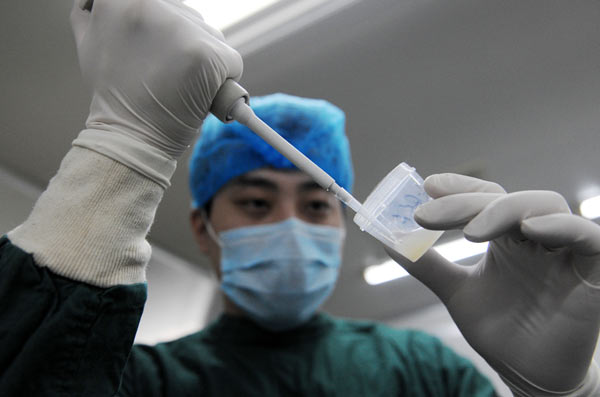 A doctor at a sperm bank in Zhengzhou, Henan province, prepares sperm for inspection. Li Bo / Xinhua
Lifestyle seen as more likely cause of fertility issues
Public health experts have raised doubts over claims air pollution can cause infertility, citing a lack of research to support the link.
The Green Book of Climate Change released this month by the Chinese Academy of Social Sciences and China Meteorological Administration blames smoggy weather for the spike in male infertility.
The finding triggered much discussion, especially among people of childbearing age.
However, independent experts are skeptical, saying more concrete work is needed to confirm the link.
"This may be theoretically possible, but there is not enough scientific evidence to support the theory that air pollution causes infertility," said Professor Kan Haidong at Fudan University, who has studied the link between the environment and human health.
"According to the evidence we have, PM2.5 (particles smaller than 2.5 micrometers) mainly have a negative impact on the human respiratory and cardiovascular systems," he said.
Air pollution has a short-term and long-term effect on health, he explained. "In the short term, acute reactions may trigger asthma due to the heavy concentration of pollutants. In the long term, we have chronic diseases, such as hypertension and heart disease."
Several universities and academic bodies have started research into the effect of air pollution on human health, mainly concentrated in the fields of respiratory and cardiovascular diseases.
However, Kan said there should be some basic evidence before launching scientific research into a theory. Right now, he said, there is no need to start research into the effect of smog on fertility.
China has seen a rise in infertility in recent years. According to the 2012 China Infertility Research Report, the rate among people of childbearing age increased to 12.5 percent in 2010 from just 3 percent two decades earlier.
In some large cities, such as Shanghai and Beijing, the rate was 15 percent.
Sperm quality has also dropped. The sperm bank covering Jiangsu province said about 30 percent of donations do not meet the required standard.
Less than 20 percent of donations from white-collar workers are up to standard, and more than 60 percent from college students cannot be accepted, the bank said.
A survey by the General Hospital of Nanjing Military Command found that one in three men preparing to have a child has low-quality sperm, while Shanghai's sperm bank said two-thirds of the sperm it collects has problems concerning quality.
Environmental conditions may play a role, but experts say most infertility cases are the result of unhealthy lifestyles.
"More infertility cases result from changing lifestyles, such as unsafe sex, multiple sex partners and abortions, which lead to various inflammations," said Jin Fan, a professor of obstetrics and gynecology at Zhejiang University's medical school.
Working pressure and bad habits such as smoking and staying up late also contribute to the problem, added physician Deng Shumin, who specializes in andrology at Beijing University First Hospital.
"Environmental pollution is a factor that can't be ruled out," he said. "Air pollution has an effect on the human body, including the respiratory and digestive systems.
Contact the writers at wanghongyi@chinadaily.com.cn