Multinational firms' tricks
Updated: 2011-08-29 17:03
(chinadaily.com.cn)
| | | | | | | | | | | |
| --- | --- | --- | --- | --- | --- | --- | --- | --- | --- | --- |
|   | | Comments() | | Print | | Mail | | Large Medium  Small | 分享按钮 | 0 |
Editor's note: Recent incidents with multinational companies have shown that standards for customer relations in China seem to be lower when compared to western developed countries. Examples include Conoco Philips' delayed apology, KFC's failure to declare the ingredients of its soy drink, and P&G's complicated refund process.
Complicate Refunding Process
P&G recalled Oral-B mouthwash products, but consumers were required to fill in application forms, mail bottles back, and provide bank accounts within a strict time limit to meet the refund criteria.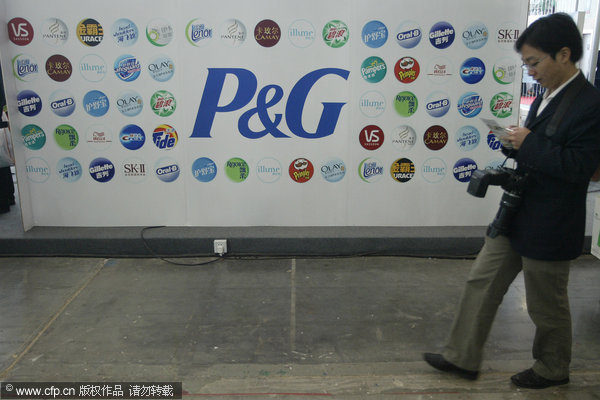 A visitor passes a wall presenting P&G's brands on Nov 5, 2010, at an exhibition in Nanjing, capital city of Jiangsu province. [Photo/CFP] 
P&G recalled Oral-B mouthwash products
China's top quality supervisor said on July 15 that Procter & Gamble (P&G) is recalling 35,892 bottles of imported Oral-B mouthwash products as the company detected possible microbial contamination. [Full story]
Kunming removes Oral-B products
But Kunming retailers said they do not yet know how stores will handle expected refund requests from people who have already purchased the products. [Full story]
Keep Silence
Conoco Phillips China's oil leak was reported in early June, but the company conceded for the first time on Aug 12 that it had not done enough to check for potential leaks in the bay. The company only apologized at a news conference on Aug 24, two months after the incident.
Conoco Phillips China apologizes
Georg Storaker, president of Conoco Phillips China, publicly apologized on Aug 24, 2011 at a news conference in Beijing. Storaker said the company takes full responsibility for the oil leak incident and will consider offering compensation once a request is received. The company has yet to receive the compensation request.The company first reported the two oil spills in the Penglai 19-3 oilfield to authorities in June. [Full story]
Conoco says it didn't do enough to prevent leaks
ConocoPhillips China, the operator of two leaking oil platforms in Northeast China's Bohai Bay, conceded for the first time on Aug 12 that it had not done enough to check for potential leaks in the bay. [Full story]
'Never Say So'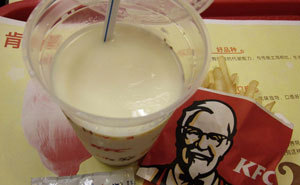 KFC's chilled soymilk drinks. [Photo/Xinhua]
KFC's soymilk drinks were found to be made from soymilk powder, and the company officially admitted so after a micro-blogger posted an incriminating photo. The company defended the product by stating that it had never promoted the drinks as freshly ground or cooked. KFC ignored the fact that it had never actually declared that the drinks were made from powder.
Concerns raised over food quality
KFC stated on its official website that its soymilk drinks are made from soymilk powder. The company said two businesses provided soymilk powder to the company: Yihaikerry and Hailong Group. KFC emphasized that the quality of its soymilk products complied with safety standards in China. [Full story] 
'Meets Standard'
Unilever Knorr bouillon's label confusing
Complaints have arisen about what some are calling confusing messages being placed on Unilever's packages for its Knorr bouillon products. The confusing label reads: "This product may contain wheat, soybeans, eggs, dairy products and fish."
Some of the products were removed from shelves after the complaints arose, but the company has no plan to recall the products.
Unilever said on its website the word "may" was used in accordance with international practices and China's standards. It said the label was meant as a warning to consumers who are allergic to certain substances.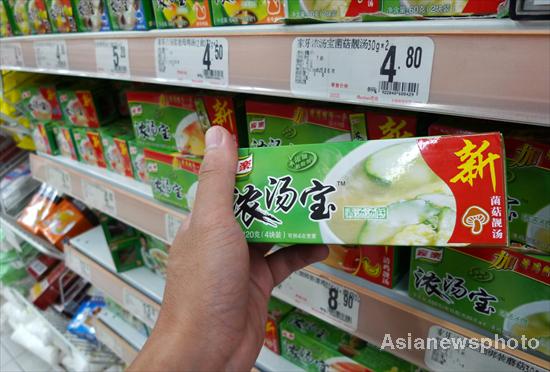 Unilever Knorr bouillon's products were seen in a supermarket on Aug 21, 2011, in Zhejiang province's Taizhou city. [Photo/Asianewsphoto]
Greenpeace found some Adidas sportswear contained the chemical nonylphenol ethoxylates (NPE). Though Adidas China claimed "the tests show the concentration of NPE is well below the threshold value," Greenpeace said the mentioned standard limit was not the limit for residue on clothes.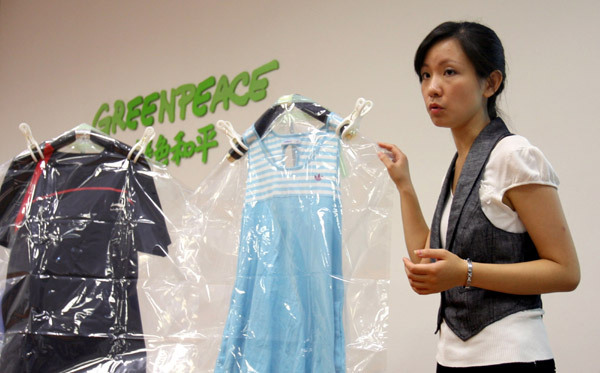 Greenpeace activist Li Yifang shows examples of brand name clothing, which the NGO says show traces of a toxic chemical that is harmful to humans and toxic to marine life, during a news conference on Aug 23, 2011. [Photo/China Daily]
Dangerous chemical found in sportswears
Tests reveal clothes by well-known sportswear brands contain a hazardous chemical that can inhibit male sexual development and cause early female development.
The non-governmental organization, Greenpeace, purchased 78 pieces of clothing and shoes manufactured by 15 brands from 18 countries, and tests revealed that two-thirds of them, including those manufactured by Adidas, contained the chemical nonylphenol ethoxylates (NPE). [Full story]