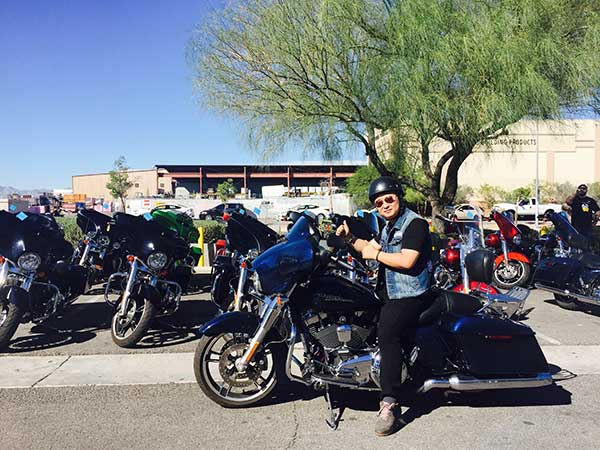 Beijing resident Zhao Yang poses for a photo with his Harley Davidson motorcycle in Las Vegas, the United States, before embarking on a riding tour in October last year.Xu Yana / For China Daily
A growing number of Chinese tourists are planning road trips in the United States this year, but differences in traffic laws and driving etiquette pose potential pitfalls. Cao Yin reports.
As the National Day holiday approaches and a growing number of Chinese prepare to take road trips in the United States, potential visitors are being urged to learn about US traffic laws and the country's auto culture.
The comments come after four Chinese tourists from Guangdong province were killed in July during a self-drive road trip in Arizona, when the driver failed to heed a stop sign and their vehicle was hit by a bus.
Failure to understand US road rules could potentially result in accidents, lawsuits, injuries and even death, according to experts.
Trips to the US during the "golden week" of China's seven-day National Day holiday, which starts on Oct 1, have become major money-spinners for Chinese tourism agencies, and self-driving road trips are becoming increasingly popular.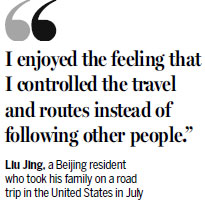 Last year, 2.67 million Chinese visited the US as bilateral tourist trips hit 4.76 million, and the number is expected to rise to more than 5 million by the end of the year, according to the National Tourism Administration.
Meanwhile, statistics provided by China Youth Travel Service, one of the country's largest tourism agencies, show that the number of Chinese planning to visit the US during the holiday has risen 30 percent from the same period last year.
About 45 percent of Chinese tourists to the US prefer not to travel as part of a group, and about 37 percent of them undertake unsupervised road trips, according to CYTS.
"Of all the tourist spots overseas, the US is the most popular destination," said Xu Xiaolei, a CYTS spokesman. "With a better highway environment and automobile culture, the US is a dream destination for driving enthusiasts."
Ge Mu, assistant president of Caissa Travel Management, an international tourism agency, said a growing number of clients are inquiring about driving holidays in the US.
Greater ease of travel
The boom in Chinese tourism to the US has been triggered by the rise in living standards and the introduction of bilateral 10-year, multiple entry visas, which make it easier for Chinese citizens to travel to the country, she said.
As an example, Ge cited one client who has traveled overseas 20 times in the past four years, and has taken advantage of the relaxed visa policy to visit the US seven times.
"When travelers are given more time in the US, most prefer to explore the country by themselves, especially on self-driving road trips that allow them to discover scenic spots that group tours can't reach," she said.
In addition, car rental companies have flourished at home and abroad, which help Chinese tourists to verify that their driving licenses are acceptable overseas, recommend routes and provide translation services.
In July, Beijing resident Liu Jing took his family on a road trip to Los Angeles, San Francisco, Las Vegas and the West Coast highways in a car he rented in China.
"All the booking and rental procedures were easy because the car rental website I selected is in Chinese. First I registered, and then I submitted my license," he said. "Highways in the US are long, which makes them ideal for self-driving trips, and it's OK if you take the wrong route, because you can use GPS to find your destination," said the 42-year-old who works in the import-export sector.
He was still excited about the trip: "I enjoyed the feeling that I controlled the travel and routes instead of following other people."
Cao Longbo found it easy to rent a car when he arrived in the US. "Airports have a host of car rental companies for tourists to choose from," said the 37-year-old software engineer, who traveled around the US by car in 2013. "Visitors can rent a car with a credit card, and it's a good idea to rent GPS or download a map before the journey, even if it's a little more expensive."
Song Qianqian is also a road trip enthusiast. "I want to set my own pace and see scenery or cultures I'm interested in," said the 31-year-old who studied in the US before returning to China to work for a financial company in Beijing.