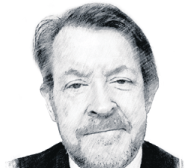 Roger Gifford, chairman of the City of London's Green Finance Initiative
China can be a leader in creating concrete international commitments toward green finance at the G20 summit, given its active role in this area, according to Roger Gifford, chairman of the City of London's Green Finance Initiative.
"We hope to see China encouraging other governments to sign an agreement to encourage their respective countries' companies and organizations to put environmental impact into the considerations of major new projects, like infrastructure projects," Gifford said ahead of the G20 Leaders Summit.
Such an achievement will be helpful in driving global economic growth as new infrastructure and power projects attract funding, he said. It will also help in mobilizing resources to reduce carbon emissions to fulfill the commitments made at the Paris Climate Change Conference in 2015, Gifford added. China, as the G20 host nation, has for the first time put green finance on the summit agenda.
Yi Gang, deputy governor of the People's Bank of China, said recently that a new report on green finance is due to be delivered to the summit.
The report comes from work carried out by the Green Finance Study Group under the G20 framework, which consists of government representatives from all G20 members and is chaired by the People's Bank of China and the Bank of England.
Gifford, who is championing green finance through his role with the Green Finance Initiative and as the British head of the Nordic bank SEB, made green finance a big theme in 2013 during his time as Lord Mayor for the City of London.
Green finance is a new concept created in recent years to channel funds from investors to environmentally friendly projects through the creation of products, such as green bonds and green loans.
China has led the world in the sale of the green debt this year, issuing green bonds worth $11.9 billion as of July, compared with $33.9 billion in green bonds issued globally over the same period.
Those numbers reflect robust growth from last year, when green bonds worth $36.2 billion were issued internationally, of which $1.3 billion were issued by Chinese organizations. As of July, Bank of China has sold $3.03 billion in new green bonds, the largest international issuance of its kind.
Gifford said green finance is a new opportunity for infrastructure projects to attract funding, while infrastructure construction is vital to boosting the global economy.
He said China has great potential to exercise leadership in green finance for three reasons.
"First, it has a leading track record of issuing green bonds already. Second, its energy and climate-mitigation projects' requirement is huge. Third, the green finance agenda fits into China's ambition of increasing its participation in global governance in finance and climate change related topics."
He added that another significant way China can lead the global green finance agenda is to encourage green funding for projects that are part of the Belt and Road Initiative.