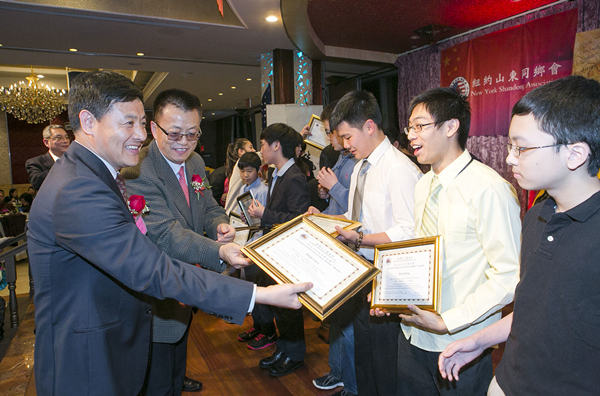 An Quanzhong(left), president of the New York Shandong Association and chairman of the Kongzi Education Foundation, awarded scholarships to local Chinese students. PROVIDED TO CHINA DAILY
At the chic Parc Hotel in the heart of Flushing, Queens, Chinese guests can find steamed buns and other delicacies of home on the complimentary breakfast menu.
"The further away from home, the closer I feel toward our fellows," said An Quanzhong, president of the Anqiao Group in East China's Shandong province. Anqiao opened the 96-room, three-star hotel last year to "create a home away from home for Chinese visitors".
"We are well aware of what fellow Chinese travelers need," An told China Daily in a February 2014 interview, shortly after the hotel opened. "Some of the older generation does not speak English, for example. I made sure that we had plenty of Chinese-speaking employees on staff so that guests feel more at ease and are able to get help going around."
On a recent Wednesday afternoon, a guest was singing Chinese songs loudly while exercising on a treadmill.
Unlike many businessmen his age, An, 50, keeps his hair naturally salt-and-pepper – nicely combed in George Clooney style but with far more pepper than the actor. An's suit was simple but refined.
In 2002, he established the Anqiao Group, a real estate-development and investment group, after a successful trading business based in Hong Kong.
An has developed a handful of residential and commercial real estate projects in his hometown of Zao Zhuang in Shandong, also called "The Coal City", and in other parts of the province.
Anqiao Group, with assets valued at more than $800 million, is the only private investor in the Beijing-Shanghai High-Speed Railway, among other state-owned companies.
However, An didn't enjoy talking about the empire he has built from scratch. He calmly gave short and factual answers with little elaboration.
"I'm not that successful," he said. "We missed some great investments."
But when the topic shifted to his charities during the past decade, he became animated, taking out his phone and showing pictures of the children he has helped.
"This girl is from Heze, the first lady's hometown," said An, pointing to a picture of himself and a girl in a white-and-blue school uniform – her head half lowered.
"When I first met her, she constantly bowed her head," An said. "Others told me that she's from a poor family, and she lacks confidence. I decided to support her education."
An said he would pay for her high school, college, and if possible, her graduate school and PhD. He sent her family a 20,000 yuan ($3,000) donation and bought her a Macbook computer.
An had a rough childhood, and he said that may have led to his caring nature for children and young people.
His family endured humiliation for three decades because An's grandfather was the governor of their town under the Nationalist government. The "cultural revolution" (1966-76) started when An was a baby, and the family withstood pressure and poverty.
An said his grandfather used to get a new 365-day calendar every year, and on the back of each page he would list everything he did on each day.
"Everything," said An, "so one day he could clear his name by showing that he had done nothing wrong. From the calendar, you can see our whole family ate one bottle of oil for a whole year," he said.
An was the oldest of five boys, and due to economic reasons, he began working after middle school. When he was 17, he wanted to join the army; the recruiter in the village rejected him because of his family background.
He dug for coal in dangerous settings and later passed a test and became a security worker at the Zaozhuang Mining Administration.
Few people in the village knew that he had quit the job and left for Hong Kong in 1992, and nobody cared, according to a story about An on Shanghai Securities News.
Some villagers knew he came back in the next decade with some money from the trading business, but few would have guessed that An, on whose family the villagers turned their backs on for decades, would extend his hand.
He built 96 new houses for all the families of Hangzhuang village in 2007 and turned their old homes into new farmland.
"They couldn't believe it," he said. "They were very skeptical and cautious. Some said I wanted to take their homes, take their land, or take away their rights to the property. Many have gotten their property certificates in recent years … they trust me now."
He said he has donated more than 100 million yuan ($16 million) to charitable causes, which include education foundations, schools and senior centers. He also has extended his efforts to the US.
A naturalized American citizen, An had been traveling between the United States and China for many years; he recently decided to shift his focus to the US.
Last year he was elected president of the New York Shandong Association and board chairman of the Kongzi Education Foundation. He raised more than $100,000 for the Kongzi Education Foundation while also making a $100,000 personal contribution.
Grace Meng, a US congresswoman representing Queens, honored An at a fundraising event on Oct 6, and declared "President An Quanzhong Day" in the 6th Congressional District.
An also invested in several condo projects in the Flushing area. He said that in the future he wants to focus on people, not money.
"Money is not that important. In the past, we counted money by hand, and now with the Internet, we don't even touch money," he said. "I'm telling my company that everyone should look for projects that will help people's lives, projects that are innovative. Even if the profit margin is little, we will still do it.
"If what we do is good for people, if we can make it big, we will still get something out of it," he continued. "I don't want to earn money for the sake of earning money. I'm tired. I want a more meaningful life."
The school told him that the girl he helped is much more confident now. "She's changed," An said happily.
hezijiang@chinadailyusa.com