Ignorance and fear of humiliation keep many victims' families silent, reports Zhang Yuchen.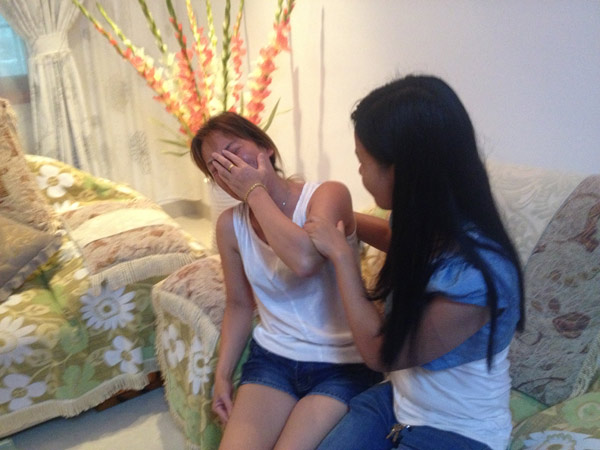 A mother is overcome with emotion after her 7-year-old daughter was sexually assaulted by a middle school student in Hengyang, Hunan province, on June 27. PROVIDED TO CHINA DAILY
Children all over the world look forward to summer vacation. They dream of seemingly endless, lazy days with no lessons, no teachers, and nothing much to do except enjoy themselves.
But for one group of children in rural China, the two-month break is anything but a time of carefree joy. They are the 60 million "left-behind children" whose parents are migrant workers who moved to the cities in search of work. The children are usually left in the care of their grandparents, often elderly and unable to provide effective supervision.
The lack of parental protection can leave children vulnerable to all sorts of dangers, especially sexual abuse. A number of recent cases have appalled the nation and led to calls for tougher action on offenders.
Many of the attacks occur at schools. Earlier this month, a 62-year-old teacher was detained in Jiangxi province, accused of abusing seven pupils, all under the age of 9, over a six-month period.
Just a few days before that, a primary school teacher in Shanxi province was arrested on suspicion of molesting a number of pupils.
Earlier this year, a primary school principal and a government worker were detained after police claimed they had taken six young girls to hotels in Hainan province and raped them. The principal was later jailed for his part in the attacks.
In May, more than 20 cases of sexual abuse of children nationwide came to light. Many of the victims were rural left-behind children.
Going further back, of the approximately 2,600 cases involving children in Guangdong province between 2008 to June 2011, more than 75 percent concerned sexual abuse, according to a survey jointly conducted by the All-China Women's Federation and the People's Procuratorate of Guangdong province.
The survey indicated that in one village alone, 94 percent of the cases involving children were centered around sexual abuse. Approximately 67 percent of the victims were acquainted with or related to their alleged attackers.
Some observers believe that these cases, although high profile, may not reflect the true scale of the problem. "There are probably many more cases, but they just haven't been reported by the victims," said Han Jingjing, director of the Beijing Youth Legal Aid and Research Center.