Michael Jackson lawyer calls new sex abuse claim 'outrageous'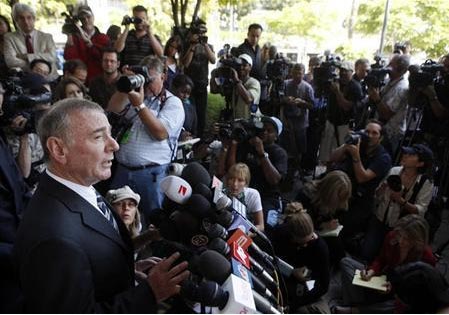 Lawyer Howard Weitzman speaks to the media outside of Superior Court in Los Angeles July 6, 2009.[Photo/Agencies]
The attorney for Michael Jackson's estate on Wednesday described as "outrageous and pathetic" a fresh claim of child molestation against the dead pop star, made by one of his close friends.
Choreographer Wade Robson, who testified in defense of the "Thriller" singer in a 2005 child sex abuse trial, filed a creditor's claim against Jackson's estate last week, alleging he had been abused by the singer when he was a minor, according to sealed legal documents seen by celebrity website TMZ.com.
"Mr. Robson's claim is outrageous and pathetic," Howard Weitzman, the attorney for Jackson's estate, said in a statement.
Robson, 30, developed a friendship with Jackson as a child and slept over at the singer's Neverland Ranch home in Southern California on several occasions when he was a minor.
He made his claim for damages against the singer's estate almost four years after Jackson's June 2009 death. Details of his allegations were not publicly available.
Robson's attorney, Henry Gradstein, accused Jackson of brainwashing and intimidating Robson to keep him from coming forward.
"Last year, on a career trajectory that was off the charts, he (Robson) collapsed under the stress and sexual trauma of what had happened to him for seven years as a child," Gradstein said in a statement on Wednesday.
He added that Robson had no financial motive and did not request a specific amount of damages in his claim.
Jackson was tried and acquitted in 2005 on molestation charges involving another minor. Robson testified at that trial in defense of the singer.
"This is a young man who has testified at least twice under oath over the past 20 years and said in numerous interviews that Michael Jackson never did anything inappropriate to him or with him," Weitzman said.
Robson, an Australian, worked as a choreographer for pop singer Britney Spears and former boy band 'N Sync in the late 1990s and appeared as a judge on the U.S. TV dance competition "So You Think You Can Dance."
He also appeared as a dancer in Jackson's 1991 music video for the single, "Black or White."
Jackson's estate is in the process of settling dozens of claims from creditors and others who had dealings with the King of Pop during his long career.
An unrelated wrongful death suit, brought by Jackson's family against concert promoter AEG Live, is in its second week of trial in Los Angeles.