Jurors being picked for Jackson suit against promoter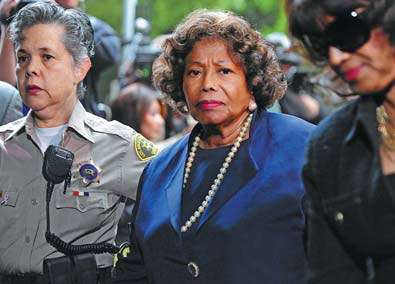 The late Michael Jackson's mother Katherine Jackson (center) arriving at the courthouse in Los Angeles for the sentencing of Doctor Conrad Murray on Nov 29, 2011. Frederic J. Brown / Agence France-Presse
Jury selection was beginning on Tuesday for a long-awaited trial in which Michael Jackson's mother is seeking billions of dollars from tour promoters she blames for her son's 2009 death.
Katherine Jackson, 82, accuses AEG Live of negligently hiring doctor Conrad Murray to look after her son as he rehearsed in Los Angeles for a doomed series of London shows.
Murray, jailed after being convicted of involuntary manslaughter in 2011 for giving the singer an overdose of the drug propofol, could be called to testify, although he may refuse to do so.
Katherine Jackson, as well as the late pop star's two oldest children, will also give evidence in the trial that comes nearly four years after his death, and that could last more than two months.
Jackson died at age 50 at his Los Angeles mansion on June 25, 2009, from an overdose of the powerful sedative propofol, administered by Murray to help the Thriller legend deal with chronic insomnia.
At the time of his death, he was rehearsing for a series of 50 shows in London, organized with Anschutz Entertainment Group in what was seen as an attempt to revive his career, and also ease his financial woes.
Jackson's mother claims that AEG Live pushed her son too hard to prepare for the London shows.
But AEG claims that Jackson had a history of drug abuse long before he met Murray, hired to care for him before and during the shows at London's O2 Arena.