MJ's father Joe Jackson suffers stroke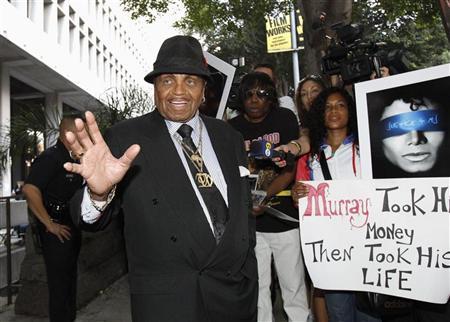 Joe Jackson, father of the late pop star Michael Jackson, leaves the courthouse during Dr. Conrad Murray's trial in the death of his son in Los Angeles September 28, 2011. [Photo/Agencies]
Michael Jackson's father, Joe Jackson, has suffered a stroke but is OK and resting in a Las Vegas hospital, a family friend said on Thursday.
Related: MJ's assistant takes legal action
"He was doing well and says he's feeling OK," close family friend Brian Oxman told Reuters.
Oxman, Michael Jackson's one-time attorney, said the 83-year-old patriarch of the pop music family started experiencing weakness on Wednesday while walking in a park near his home and was later admitted to a hospital.
Jackson has a history of strokes, Oxman said.
"He was talking fine," Oxman added. "He sounded excellent to me."
Related: Jackson websites shut down for violating copyright
A former US Steel employee from Gary, Indiana, Jackson managed and helped launched the career of his children with the R&B and soul group The Jackson 5 beginning in the 1960s.