Pilot project could provide big growth in incomes for farmers, reports Xie Yu in Shanghai.
Cao Xinyun, 59, is the only male worker on his watermelon farm. In a tent he erected for temporary employees, 10 elderly women were drinking tea and eating sunflower seeds.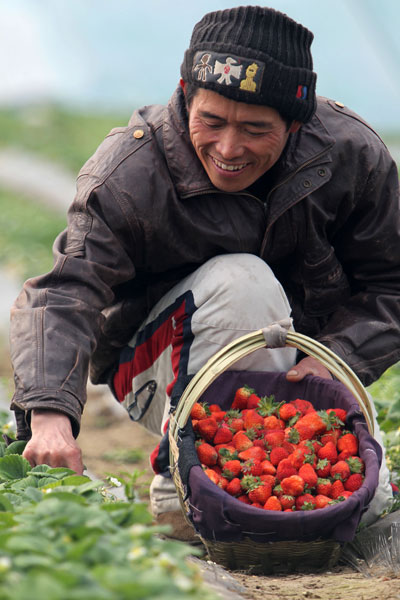 Wu Jingpeng picks strawberries on his family farm in Xuchang, Henan province. Niu Shupei / for China Daily
Cao Guifan, who has been growing rice most of her life, is the youngest among them. "I know nothing except farming. But my daughter is much more capable. She works in a garment factory in the city," said the 52-year-old.
Women are good hands in the watermelon fields, said Cao Xinyun, whose farm covers 2 hectares in Baziqiao village of suburban Shanghai. People have to be patient and careful, especially when working on artificial pollination, a practice that requires deft, skillful fingers. Women fit the bill perfectly.
But apart from their attributes as workers, one of the primary reasons that Cao Xinyun hires women is that he has been unable to find enough young men in the village. As a result, most of the farmers and workers are middle-aged or elderly.
About 90 percent of Songjiang's rural residents had non-agricultural jobs in 2007, while only 6.6 percent - 12,500 people - were directly engaged in farming, according to the Songjiang Agriculture Commission.
A recent study conducted by the Agricultural Science Academy in neighboring Jiangsu province shows the average age of farmers and farm laborers in the province is 58.6 years. Moreover, young people in the rural areas are "not positive" about farming.
Cao Xinyun has started work on his retirement plan. He earned 300,000 yuan ($48,327) last year by selling early melons, and bought an apartment in central Songjiang district with the proceeds.
"My son and daughter both work in central Songjiang. I hope to be able to live with them in three years or so," he said. His optimism was slightly tempered by his belief that no one will take over from him when he retires: "Young people are not interested in this."