"I am already homesick," said Liang Wentong, 38, a farmer from Congjiang county in Guizhou province, when interviewed on March 5, the first day of the annual session of the National People's Congress.
It was the first time that Liang had been to Beijing.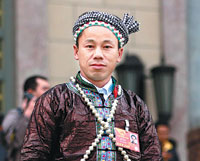 Liang Wentong, 38, a farmer from the Dong ethnic group on Guizhou province
"I am quite concerned about whether the pigs raised on my farm will be sick or whether my wife can take good care of them," said Liang, who is from the Dong ethnic group.
The pig farmer became a deputy to the NPC, the country's top legislature, for the first time this year. It was huge news to his family, Liang said.
"But I was determined to go to Beijing a couple of days after I received the notice. I also wanted to be sure that my wife had learned how to give injections if some animals get sick," he said.
There are some 40 sows and 200 piglets on Liang's 1,000-square-meter farm. The animals are miniature pigs, a special breed.
Liang and his family started professional breeding in 2005 with an agricultural loan of 10,000 yuan ($1,600). But at the time, such limited finances could only help him to raise chickens.
Despite that, it was a good start, he said, because before this the family was self-sufficient but had almost no extra income. Now, the family can earn about 100,000 to 200,000 yuan a year from the pig farm.
"I am not the richest farmer in the county. I guess the reason that I have been elected as an NPC deputy is that my experience has brought the hope of prosperity to some local people," he said.
Liang said that after years of studying livestock breeding and practices, he has now taught many rural residents in his area to start their own businesses in the same sector - for free.
"I am not very ambitious about earning much money. But I do hope more people can live a better life when they get involved in breeding pigs," he said.
Liang said he has never dreamed of living in a city. "The ideal life for me is approaching now - breeding 50 sows, living with my family in a comfortable house, drinking and laughing with friends anytime we want," he said.
Liang called for government authorities to set up an information platform for local farmers, letting them know where they can sell their pigs, especially in poverty-stricken areas where people have limited access to information.
He said that in the past few days, during which he has stayed in a hotel, he has looked out of the widow and seen a clean concrete path outside.
"Many paths linking the village I live in are still dirt roads, which are very dangerous for children. I hope government authorities can help us in the future," he said.
Contact the writers at jinzhu@chinadaily.com.cn and sujiang-yuan@chinadaily.com.cn