From the front line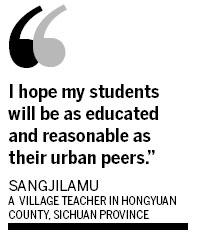 Spraying paint on a car, Nima Dorje impressed onlookers with his agility and skill.
"I could be taking care of yaks and digging caterpillar fungi in my home county," Dorje said.
Instead, because of a free education program, the 19-year-old Tibetan is a painter with an automobile sales and service company in Shuangliu county, Sichuan province.
Both Yaks and caterpillar fungi are major sources of income for inhabitants on the Qianghai-Tibet Plateau.
However, finding the fungus is difficult due to overexploitation, and most Tibetans can barely make ends meet this way.
Dorje stayed in his home village in the Ganzi Tibetan autonomous prefecture in Sichuan province after failing to pass the senior high school entrance examination in 2009.
But when the new "9+3" program enrolled students in Danba county, he entered the Zhonghe Vocational School in Shuangliu and majored in car repair.
Now he has a monthly salary of more than 4,000 yuan ($640) and can send home between 1,000 and 2,000 yuan each month to support his family.
Sichuan launched the "9+3" Free Education Program in 2009.
"The program means nine-year compulsory education and three-year free vocational education for Tibetan junior and senior high school graduates," said Huang Yanrong, vice-governor of Sichuan, which neighbors Tibet and has a large Tibetan population.
"Within five years, about 10,000 Tibetan students will study in key secondary vocational schools in the province each year. Their tuition, accommodation and book fees are exempted and the students will receive some subsidies for living and transportation expenses. Upon completion of their studies, they will get help in finding jobs," she said.
In 2009, the first group of 8,576 Tibetan students left their mountainous homes - where they would otherwise attend cows and sheep and look for caterpillar fungi - for the 90 secondary vocational schools in Sichuan. In consideration of their future employment, the province offered 68 popular majors such as computers and car repair.
"Governments at all levels in the Tibetan areas have sent many officials and teachers to help Tibetan students adapt to their new school life as quickly as possible," Huang said.
The Tibetan students have lived up to expectation and distinguished themselves in various skill competitions. In the 2011 National Vocational School Skill Competition and Talent Show held in Tianjin, 21 students took part and 19 won prizes.
Most graduates have landed jobs in fields such as manufacturing, transportation, electronic information technology, finance and commerce.
"More than 600 of the first batch of graduates are furthering their studies in institutions of higher learning and some 2,000 graduates have returned home to work in township government offices and public institutions or are self-employed," said Hao Yuenan, deputy chief of the Sichuan provincial government information office.
Lack of teachers has long hindered preschool education in Waqie township in remote Hongyuan county. But when the township recruited kindergarten teachers earlier this year, it had an average of five candidates for one job thanks to students from the program, according to Xiang Qiujie, an information officer in Hongyuan.
Da'e village in Waqie had no kindergarten before Sangjilamu, 26, became its first teacher this autumn. Before she became a student in Mianyang Vocational School, she had got married.
She teaches what she learned at the Mianyang Vocational School - art, music, finger play, ancient poems and etiquette - to 25 children in the kindergarten
"I hope my students will be as educated and reasonable as their urban peers," she said.
huangzhiling@chinadaily.com.cn
(China Daily 10/24/2012 page4)