In China's cities, where populations are continuing to boom, hazards abound. He Na dons a hard hat to find out why.
Xu Dajiang has learned to tread lightly on his daily walk to work. He says he has reason to be cautious. In mid-August, a giant hole opened up in the middle of Liaoyang Street, a road he regularly travels in Harbin, swallowing four people. An elderly lady and an 8-year-old girl were killed on the spot. "It could happen to anybody," said the 30-year-old food-quality inspector.
"Now I pay special attention when I see that a road is being repaired. My wife refused to leave the house for two weeks, fearing she would suddenly disappear into the earth. She still takes detours to avoid the places that had the cave-ins," he added.
The collapse in August devastated Harbin, a city in Heilongjiang province famous for its exotic Russian-style buildings and winter festivals. Yet, the accident is just one in a series of tragedies that have struck in urban areas nationwide.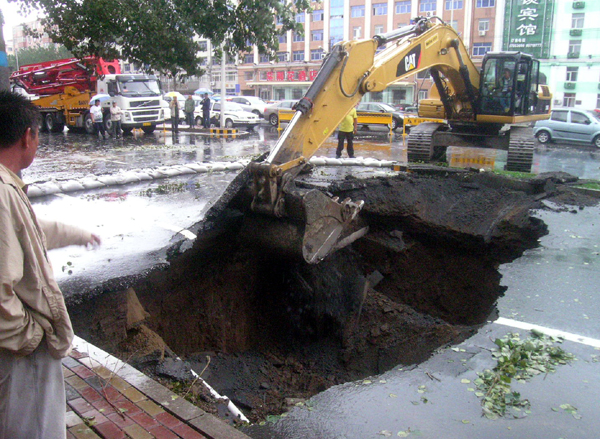 An excavator clears debris from the Second Ring Road in Harbin, capital of Heilongjiang province, where a giant sinkhole appeared. No casualities were reported in the accident, which happened in August. [Photo/China Daily]
From sinkholes, to flooding caused by antiquated and underdeveloped drainage systems, to falling glass curtain walls: China's cities have become dangerous places to live, residents say.
Four people were killed and nine injured by sinkholes across the country last month. Nine such incidents occurred in Harbin alone over a period of 20 days. A Beijing woman died from burns to 99 percent of her body when she fell through a sidewalk into scalding water on April 8.
Systems undermined
Police say they are still investigating the fatal cave-in on Liaoyang Street. Experts and the public, however, are already pointing fingers at poor urban planning and shoddy underground construction, and many people have taken to the Internet to vent their fears and anger.
"Unbelievable. People just vanished on the street," wrote a blogger on Sina Weibo, a Twitter-like website, on Sept 25. "I'll go to Harbin for a business trip tomorrow. I hope there are no cave-ins."
Another posted, "Please hold your friends' hands firmly (in the street) because it's a case of 'now you see them, now you don't'."
Zhao Shuang, who lives near Liaoyang Street, told China Daily the road has frequently been dug up and repaired over the past five years, either to lay or repair cables and gas pipes. "Why can't they do all of these things at once?" he asked. "It's extremely inconvenient for us residents."
In a recent essay, Lei Haiying, director of the Geological Environment Institute in Beijing, said the frequent cave-ins indicate metropolises are witnessing a surface stability crisis.
In every square kilometer, a city will have an average of 25 km of utility pipelines for water, sewage, gas, cable television and telecommunications, he wrote, adding that construction and maintenance is more often than not covered by a range of agencies.
Although many cities have established early warning and emergency response systems, Lei said they are not very professional. Instead of investigating accidents after they occur and repairing the damage, at huge cost, the goal should be to eliminate the hidden danger, he added.
"Various pipes of different functions are buried underground, running either parallel or intersecting each other," said Li Hongchang, an associate professor at Beijing Jiao Tong University's School of Economics and Management. "What often happens is one pipe has a problem and then affects others around it, making accidents harder to investigate and repair."