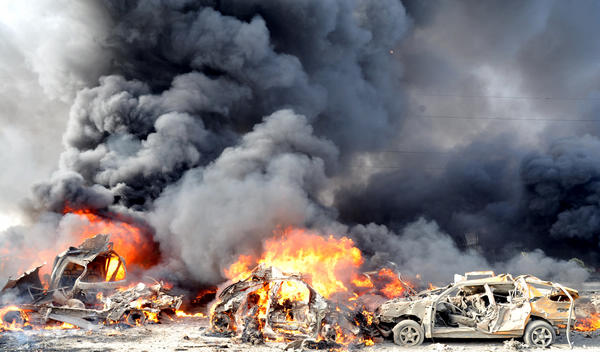 A photograph supplied by the Syrian Arab News Agency shows smoke rising from burning cars at the site of two blasts in Damascus on May 10, 2012. The powerful explosions, in quick succession, rocked the Syrian capital during the morning rush hour, killing 55 people, according to the State television service. 
Nowhere has fighting been more intense, nor destruction so complete, reports Li Lianxing in Homs, Syria.
Obtaining approval to visit Homs wasn't easy. The Syrian Ministry of Information, which had invited two researchers, some other Chinese journalists and me to observe the country's first multiparty parliamentary elections in five decades, said it couldn't guarantee our safety in the war-torn city.
"The fighting is still going on there and although the number of incidents has been greatly reduced, we are deeply concerned about any possible threats to your safety," said our guide, known only as Hassain, speaking almost a month after a cease-fire, brokered by the United Nations, came into force.
The first batch of UN observers, to monitor a six-point peace plan initiated by UN envoy Kofi Annan, were deployed in April and, in total, 300 military observers are expected to be in position by the end of this month.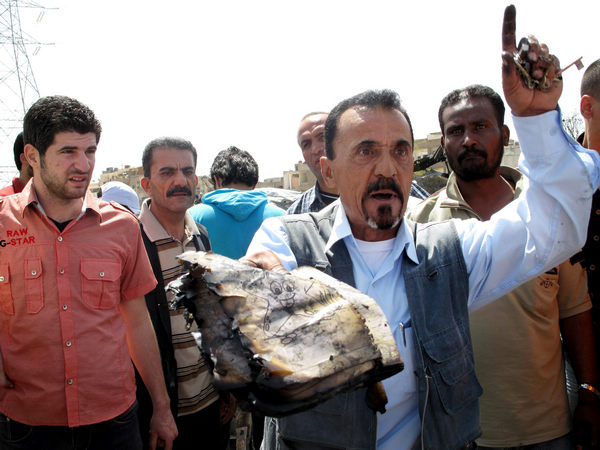 The charred remains of a child's book are displayed to highlight that children were among the victims of twin blasts in Damascus, the Syrian capital, on May 10. The blasts claimed dozens of lives. Li Lianxing / China Daily 
The cease-fire has been broken by both sides and, as usual, civilians have been the main casualties. We felt that it was vital to observe the situation on the ground and gain first-hand experience of the aftermath of these urban battles. However, it was difficult to get a sense of a country in the throes of civil war because at 10 pm all the shops and restaurants were still open for trade.
Finally, in the last few minutes of election day on May 7, we were told that our application to visit the city had been approved and that we would leave the next day. At 8 am, our car duly left the hotel, followed by another carrying five heavily armed security guards.
The six-lane highway to Homs and other northern cities was busy with trucks and coaches. Hassain told us that the situation had improved recently and that people had flooded back onto the previously empty roads.
Homs is 161 km from Damascus and a key strategic position, where many oil pipelines and rail tracks converge. Since the crisis broke out in March 2011, the city has been one of the main battlegrounds between government and opposition forces.