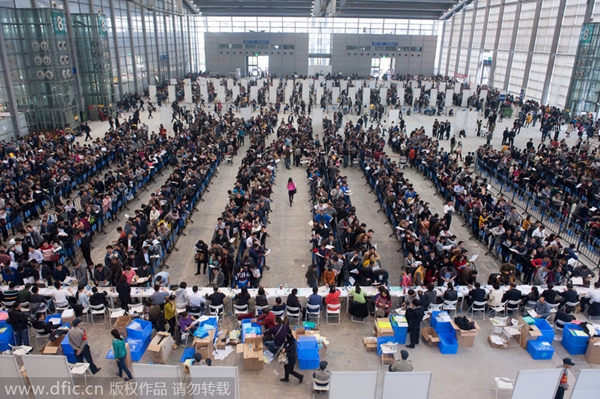 Shenzhen residents and car dealers line up to notarize car purchase documents before applying for plates on Jan 5, 2015 after city government announced a car purchasing restriction requiring prospective buyers to acquire new car plates by lottery or auction on Dec 29, 2014. [Photo/IC]
Guangdong province will review the introduction of a controversial policy in Shenzhen government to restrict car sale, reported Southern China Metropolis Daily on Friday.
On the afternoon of Dec 29, 2014, the Shenzhen city government abruptly announced that it would restrict car purchases. The decision announced required prospective car buyers to acquire license plates via either a lottery or auction system.
The decision would go into effect less than 30 minutes after it was announced.
The abrupt announcement created a frenzy after with many buyers rushing to car sales agency for a new license plate before the new rule went into effect.
It also aroused public outcry over its legitimacy.
In a letter written to the Legal Office of Guangdong Province, Gu Dasong, a professor of transportation law in Southeast University, requested the office to review the legitimacy of the announcement
Gu posted a photo of the reply from the legal office on Sina Weibo, a twitter-like website, on Thursday. According to the letter, the Legal Office of Guangdong confirmed that it would initiate an investigation over the legitimacy of the Shenzhen government's announcement to restrict car purchases.
Related story:
Shenzhen restricts car purchases to ease congestion